5 Amazing Things to Do in Venice Beach
May 6, 2022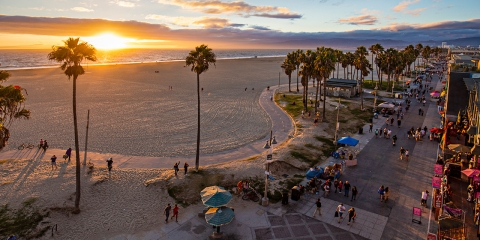 Sponsored Exclusively by Visit California
This unique Los Angeles County beach town has sand, surf, and a lot of local color. No doubt, many consider Venice Beach to be the nerve center for Los Angeles' quirky, out-there personality. Check out our tips below on how to explore Venice Beach in five unique ways.
Stay in the Heart of Venice
To stay at the center of Venice Beach culture, book a room at Hotel Erwin, a retro-meets-surf-style boutique hotel with plenty of ocean-view rooms, a rooftop lounge, and a lobby decorated with surfboards. Or stay at the historic Venice Beach Suites & Hotel, with its exposed-brick walls, a cool antique elevator named "Betsy," and a rooftop deck with 360-degree views.
People-Watch at Muscle Beach
Venice is most famous, perhaps, for Muscle Beach, a stretch of sand accented with an outdoor gym that's a magnet for serious body-builders, cheerful exhibitionists, and plenty of gawkers. The surrounding area of beach also has play areas for kids, a skate park, a boxing ring, and of course, a "regular" beach, where you can relax in the sand and watch everyone else work up a sweat.
Get a Scenic Workout
Get a day pass for the gym at Muscle Beach for just $10, or rent a bike and pedal along Venice's long, beachside bike path (Hotel Erwin guests can just borrow a bike). 
Eat Like a Local
Venice has attracted plenty of top-shelf places to eat, drink, or just nosh. Grab a table at restaurant and bar James' Beach—located a mere half block from the sand—known for its Angus burgers, movie-star mahi-mahi tacos (they were featured in the 2009 film I Love You, Man), and colorful people-watching.
Gourmands also flock to two restaurants launched by chef Travis Lett, which both start with a silent G: Gjusta is an acclaimed bakery and deli known for its decadent sandwiches while Gjelina draws consistent crowds for its inventive vegetable dishes, pizzas, and surprises like rabbit stroganoff. Nearby Zinqué, meanwhile, takes its inspiration from the French for its charcuterie plates, quiches, and chocolate croissants.
Another bucket-list stop for foodies is Tito's Tacos, an old-school taqueria located at the eastern edge of Venice. Founded in 1959 and still sporting an old sign out front, Tito's regularly makes national best-of lists for its unapologetically traditional tacos and burritos. The tacos are topped with shredded iceberg and grated cheddar, and the beef burritos are filled with chili con carne and best served with a Mexico-bottled, cane-sugar-fueled Pepsi.
Shop for Quirky Treasures
Between meals and workouts, wander Abbot Kinney Boulevard, named for the eccentric real estate investor who built Venice in the early 20th century to reflect his favorite Italian city. Come on the first Friday of the month for food trucks and live music but any day offers a mix of art galleries, clothing boutiques, and intriguing gift shops, like the low-key elegance at Cuyana, the British-made activewear at Sweaty Betty, and the scents at Strange Invisible Perfumes. Abbot Kinney also features some transplants that make for excellent snacks, from Chicago's Intelligentsia Coffee to Portland's Salt & Straw Ice Cream and Blue Star Donuts.
Photo Credit: Xavier Arnau/Getty Images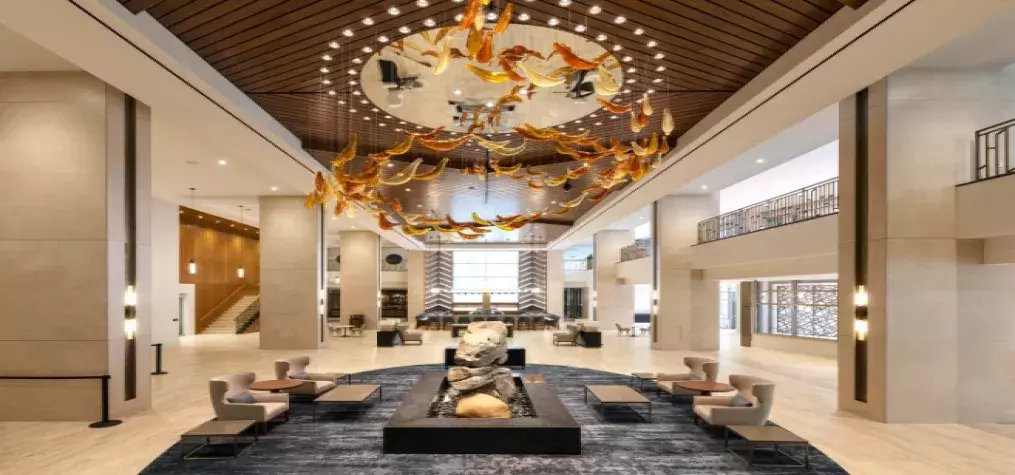 Located in beautiful North Carolina, Harrah's Cherokee is the perfect mountain getaway with breathtaking views of the Great Smoky Mountains and new additions to its resort and conference spaces sure to elevate any meetings or event. Completed in 2021, Harrah's Cherokee's latest $330 million expansion project introduced an entirely new fourth hotel tower, The Cherokee, as well as an additional 83,000 square feet of meeting space with the Cherokee Convention Center. The Cherokee tower brings with it 725 rooms and 70 luxurious suites spread out over 19 floors for a grand total of 1,800 rooms across the entire resort. The new rooms feature a sleek design with an earth-toned color palette and modern amenities. In addition to the new rooms, the expansion also brought with it a luxurious new lobby and lobby bar, a fitness center, a coffee & pastry bar, and a second pool. Conventions, trade shows, banquets, receptions, and even the smallest, most intimate gatherings can find the perfect arrangement at Harrah's Cherokee with its 130,000 square feet of flexible meeting space – including the Cherokee Convention Center. The resort offers a myriad of different spaces and configuration options for events, but the largest spaces include the following: 32,000-sq-ft Cherokee Convention Center ballroom with 22 meeting spaces 11,100-sq-ft Cherokee Convention Center ballroom pre-function space 33,000-sq-ft Cherokee Exhibit Hall 6,000-sq-ft Cherokee Exhibit Hall Pre-Function 13,801-sq-ft Council Fire Ballroom able to be reconfigured into as many as four ballrooms from 3,100 to 3,529-sq-ft each 16,815-sq-ft Event Center able to be configured in six different ways to accommodate 100 to 1,500 guests and offers four VIP suites, box seating, and more than 1,100 balcony seats. In addition to the new accommodations and meeting space, Harrah's Cherokee has also opened several new restaurants as part of the expansion including Guy Fieri's Cherokee Kitchen + Bar which includes the chef's award-winning burgers and barbeque on the menu. Another celebrity chef has also made their mark on the resort with the opening of Gordon Ramsay Food Market which features eight dining concepts ranging from sushi to New York-style deli sandwiches and classic fine-dining fare. Longtime Asheville favorite, Wicked Weed Brewing Pub has also debuted a new location next to Harrah's Cherokee Event Center creating the perfect after-event center with its bright and bold design, over thirty different beers, and live music on weekends. An easy drive from many of the largest cities in the Southeast, Harrah's Cherokee provides the perfect blend of majestic mountainscapes, luxurious new accommodations, and authentic Native American culture.