ASM Global's Newly Opened Exhibition World Bahrain Expected to Be a Boon for the Region
January 3, 2023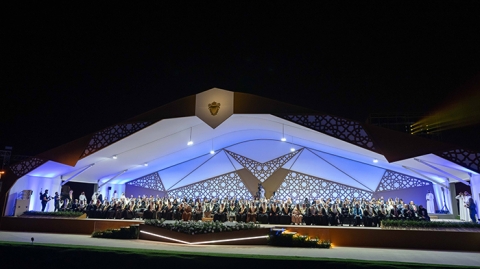 Leading venue management company and live experience producer ASM Global recently hosted an awe-inspiring, firework-laden grand opening ceremony for the new Exhibition World Bahrain, one of the largest convention centers in the Middle East, with more than 1 million square feet of trade show and conference space.
The new venue's launch marks a milestone for the Kingdom of Bahrain's economic development and is expected to play a key role in advancing the economic competitiveness and positioning of Bahrain as a major global destination for regional and international meetings and conventions, according to ASM Global officials.
The contemporary convention facility not only joins ASM Global's rapidly expanding portfolio of more than 350 venues around the world, but also kicks off the company's post-pandemic convention growth initiative.
"This moment is the culmination of our plan developed during the pandemic leveraging our belief that this part of the world would be the quickest to not only return to normal but move quickly to dramatically increase its convention and exhibition market share," said Ron Bension, president and CEO of ASM Global. "We're also looking forward to leveraging the widest network in the world within the MICE industry to create unique experiences built on years of expertise."
The opening extravaganza, which took place in November, was attended on behalf of His Majesty King Hamad bin Isa Al Khalifa by His Royal Highness Prince Salman bin Hamad Al Khalifa, the Crown Prince and Prime Minister of Bahrain, who highlighted the importance of competitiveness as a fundamental element of the kingdom's economy. He also noted that tourism remains a leading economic sector, adding that the sector's growth has been a key driver of the kingdom's comprehensive development, led by His Majesty the King.
During the ceremony, Bahrain Tourism Minister H.E. Fatima Al Sairafi noted the kingdom's longstanding history in being a destination linking the east and west for trade, which has furthered its position as a global tourist destination. She added that the venue's inauguration reflects the kingdom's commitment to expanding cross-sector development in line with Bahrain's sustainable development goals.
Featuring adaptable and flexible design with multiple space configuration capabilities, Exhibition World Bahrain offers the following features:
10 halls exhibition halls totaling more than 1 million sq. ft.

A Grand Hall that can accommodate up to 4,000 seated guests

94 meeting rooms

14 show offices

25 food and beverage and retail outlets
The facility's spaciousness also enables it to host a number of simultaneous events, including local, regional and international exhibitions, meetings, conventions, galas, weddings, concerts, and sports and live entertainment events.
At the grand opening ceremony, ASM Global APAC and Gulf Region Chairman and CEO Harvey Lister AM congratulated the Bahrain Tourism and Exhibitions Authority (BTEA) on the inauguration of Exhibition World Bahrain.
"ASM Global is proud to be working in partnership with BTEA helping to ensure Bahrain will be at the forefront of attracting tourism investment, international conventions and exhibitions, and world-class live events to the Gulf region," Lister said. "This iconic landmark venue will further position Bahrain as an international destination, helping to drive diversification of growth, benefiting the local economy and further enhancing the kingdom's global standing."
Following the grand opening, Exhibition World Bahrain immediately opened to the public with three concurrent events that attracted more than 100,000 visitors over five days: the 30th edition of Jewellery Arabia, the region's premier jewelry and watch show; the inaugural edition of Scent Arabia, Bahrain's first luxury fragrance event; and Cityscape, the region's largest real estate summit and exhibition.
Exhibition World Bahrain is owned by BTEA, which plans to leverage ASM Global's wider network within the meetings and trade show industry to create unique event experiences.

Don't miss any event-related news: Sign up for our weekly e-newsletter HERE, listen to our latest podcast HERE and engage with us on Twitter, Facebook, LinkedIn and Instagram!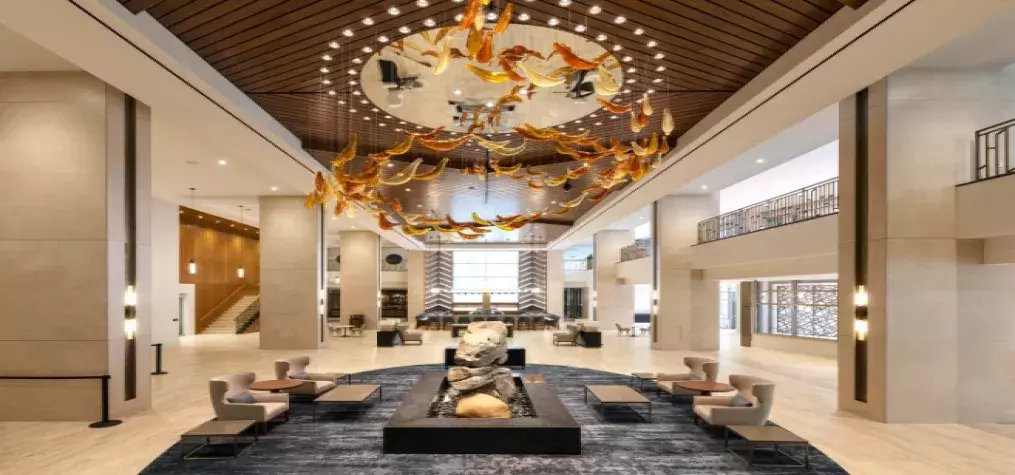 Located in beautiful North Carolina, Harrah's Cherokee is the perfect mountain getaway with breathtaking views of the Great Smoky Mountains and new additions to its resort and conference spaces sure to elevate any meetings or event. Completed in 2021, Harrah's Cherokee's latest $330 million expansion project introduced an entirely new fourth hotel tower, The Cherokee, as well as an additional 83,000 square feet of meeting space with the Cherokee Convention Center. The Cherokee tower brings with it 725 rooms and 70 luxurious suites spread out over 19 floors for a grand total of 1,800 rooms across the entire resort. The new rooms feature a sleek design with an earth-toned color palette and modern amenities. In addition to the new rooms, the expansion also brought with it a luxurious new lobby and lobby bar, a fitness center, a coffee & pastry bar, and a second pool. Conventions, trade shows, banquets, receptions, and even the smallest, most intimate gatherings can find the perfect arrangement at Harrah's Cherokee with its 130,000 square feet of flexible meeting space – including the Cherokee Convention Center. The resort offers a myriad of different spaces and configuration options for events, but the largest spaces include the following: 32,000-sq-ft Cherokee Convention Center ballroom with 22 meeting spaces 11,100-sq-ft Cherokee Convention Center ballroom pre-function space 33,000-sq-ft Cherokee Exhibit Hall 6,000-sq-ft Cherokee Exhibit Hall Pre-Function 13,801-sq-ft Council Fire Ballroom able to be reconfigured into as many as four ballrooms from 3,100 to 3,529-sq-ft each 16,815-sq-ft Event Center able to be configured in six different ways to accommodate 100 to 1,500 guests and offers four VIP suites, box seating, and more than 1,100 balcony seats. In addition to the new accommodations and meeting space, Harrah's Cherokee has also opened several new restaurants as part of the expansion including Guy Fieri's Cherokee Kitchen + Bar which includes the chef's award-winning burgers and barbeque on the menu. Another celebrity chef has also made their mark on the resort with the opening of Gordon Ramsay Food Market which features eight dining concepts ranging from sushi to New York-style deli sandwiches and classic fine-dining fare. Longtime Asheville favorite, Wicked Weed Brewing Pub has also debuted a new location next to Harrah's Cherokee Event Center creating the perfect after-event center with its bright and bold design, over thirty different beers, and live music on weekends. An easy drive from many of the largest cities in the Southeast, Harrah's Cherokee provides the perfect blend of majestic mountainscapes, luxurious new accommodations, and authentic Native American culture.