Freeman Partners With Hubilo for Turn-Key Virtual and Hybrid Solution
March 11, 2022
Freeman, a leading event management company, has partnered with Hubilo, a leading virtual and hybrid event platform, to provide its customers around the world with a seamless digital component for events.  
The alliance is designed to allow Freeman's customers the ability to tap into the company's strategic expertise and event planning know-how combined with Hubilo's best-in-class platform as a one-stop approach to planning and managing all aspects of virtual, hybrid and in-person events. Capabilities through Hubilo include custom branding, mobile ready, personalized networking, break-out sessions, digital booths, virtual happy hours and more, with no limits on attendees, exhibitors and sessions.
The partnership is a win-win for all Freeman customers, from event organizers to corporate brands, who look to the company to plan, build and manage their whole event, according to Janet Dell, president and COO of Freeman.
"We're thrilled to partner with Hubilo because it offers our clients a scalable service for virtual and online events while still leveraging our outstanding event management expertise," she said. "By working with Freeman, all aspects of hybrid or digital events can seamlessly be managed regardless of size or needs, through a single team and contract."
Hubilo's virtual and hybrid event platform is designed for engagement by providing industry-leading features and flexibility, and both companies are known for the exceptional client experiences they provide, according to Vaibhav Jain, CEO and founder of Hubilo.
"With our focus on putting the event planner first, it makes sense that we are partnering with Freeman to create a streamlined hybrid offering for event planners to do their most creative work and bring people together across borders, languages, and cultures," Jain said.
As Freeman continues to focus on redefining the live events industry, by working with Hubilo the company aims to combine its world-class service with its customization capabilities to bring clients a truly unique event experience and create moments that will resonate with their audiences, Dell added.
Freeman will provide consultative services to assist clients in creating their virtual and hybrid experiences, which can range from overall event strategy to the custom look and feel aligned with their brand or show. There are several options and configurations within the Hubilo platform that allow for customization.
Freeman specializes in a data-driven approach and focuses on integrated full-service solutions that leverage a 100-year legacy in event management as well as new technologies to deliver moments that matter.
In 2021, Freeman produced nearly 1,000 events in more than 100 cities. Approximately 150 of those events were a combination of virtual and hybrid formats.
Don't miss any event-related news: Sign up for our weekly e-newsletter HERE and engage with us on Twitter, Facebook and  LinkedIn!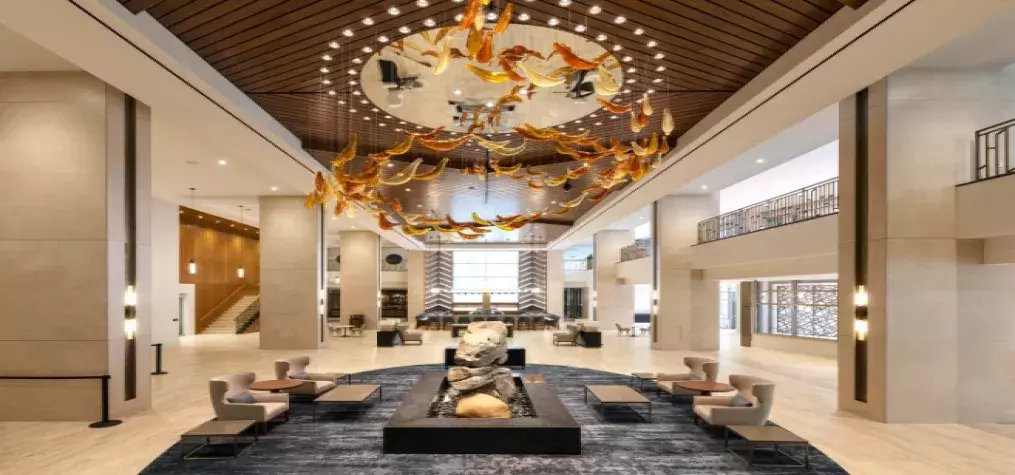 Located in beautiful North Carolina, Harrah's Cherokee is the perfect mountain getaway with breathtaking views of the Great Smoky Mountains and new additions to its resort and conference spaces sure to elevate any meetings or event. Completed in 2021, Harrah's Cherokee's latest $330 million expansion project introduced an entirely new fourth hotel tower, The Cherokee, as well as an additional 83,000 square feet of meeting space with the Cherokee Convention Center. The Cherokee tower brings with it 725 rooms and 70 luxurious suites spread out over 19 floors for a grand total of 1,800 rooms across the entire resort. The new rooms feature a sleek design with an earth-toned color palette and modern amenities. In addition to the new rooms, the expansion also brought with it a luxurious new lobby and lobby bar, a fitness center, a coffee & pastry bar, and a second pool. Conventions, trade shows, banquets, receptions, and even the smallest, most intimate gatherings can find the perfect arrangement at Harrah's Cherokee with its 130,000 square feet of flexible meeting space – including the Cherokee Convention Center. The resort offers a myriad of different spaces and configuration options for events, but the largest spaces include the following: 32,000-sq-ft Cherokee Convention Center ballroom with 22 meeting spaces 11,100-sq-ft Cherokee Convention Center ballroom pre-function space 33,000-sq-ft Cherokee Exhibit Hall 6,000-sq-ft Cherokee Exhibit Hall Pre-Function 13,801-sq-ft Council Fire Ballroom able to be reconfigured into as many as four ballrooms from 3,100 to 3,529-sq-ft each 16,815-sq-ft Event Center able to be configured in six different ways to accommodate 100 to 1,500 guests and offers four VIP suites, box seating, and more than 1,100 balcony seats. In addition to the new accommodations and meeting space, Harrah's Cherokee has also opened several new restaurants as part of the expansion including Guy Fieri's Cherokee Kitchen + Bar which includes the chef's award-winning burgers and barbeque on the menu. Another celebrity chef has also made their mark on the resort with the opening of Gordon Ramsay Food Market which features eight dining concepts ranging from sushi to New York-style deli sandwiches and classic fine-dining fare. Longtime Asheville favorite, Wicked Weed Brewing Pub has also debuted a new location next to Harrah's Cherokee Event Center creating the perfect after-event center with its bright and bold design, over thirty different beers, and live music on weekends. An easy drive from many of the largest cities in the Southeast, Harrah's Cherokee provides the perfect blend of majestic mountainscapes, luxurious new accommodations, and authentic Native American culture.