NewSky XR Brings Toy Foundation's Toy of the Year Awards After-Party Into the Metaverse
April 1, 2022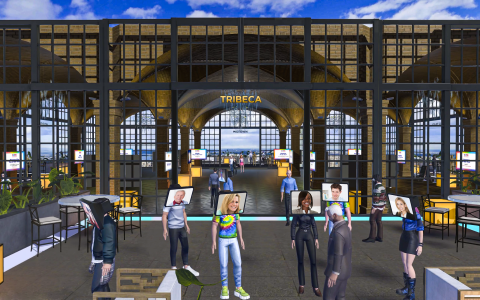 The metaverse is upon us, and The Toy Foundation is one of the latest companies to bring one of its events into the new world of virtual interactivity and participant engagement. For its recent Toy of the Year (TOTY) Awards after-party, the Toy Foundation leveraged the immersive event platform of NewSky XR for a cutting-edge virtual experience.
NewSky XR took this year's TOTY to the next level by hosting an after-party for winners, Toy Industry Hall of Fame inductees and event attendees in their New York Rooftop location in the metaverse.
After the winners were announced, event participants logged in to NewSky XR's secure online platform to enjoy the highly engaging and immersive event. They donned customizable avatars with video screen heads to network with toy industry leaders in a high-fidelity, rich texture, photo-realistic environment. Each category winner had a video that played on one of 20 in-world screens throughout the beautiful virtual ballroom.
"We couldn't be more excited to be a part of this year's Toy of the Year Awards," said Tim Weisbrod, chief technology officer at NewSky XR. "We were thrilled that The Toy Foundation chose to leverage our platform to engage with its audience in the metaverse in a way that you simply can't experience in simple video conferencing."
"On a night that honors the best in play and kids' entertainment, NewSky XR helped us deliver a TOTY after party that reflected the innovation the toy industry is known for," said Pamela Mastrota, executive director at The Toy Foundation. "It was an engaging virtual experience that added another experiential layer to the night's festivities, allowing attendees to interact and network in a fun new way."
Robin Raskin, founder of The Virtual Events Group, which produced the event, said her company searched high and low for the right metaverse that would ensure that TOTY guests would have a great experience and an easy time onboarding, and not require them to have any special hardware.
"NewSky XR had the perfect combination of stunning New York scenes, seamless sign-ons, and the sense of playfulness and exploration that we were seeking," Raskin said.
NewSky XR was created by event professionals, entertainment veterans, VR pioneers, and gamers in a mashup to deliver immersive and engaging live experiences through its WebXR platform.
Known as the "Oscars" of the toy industry, the TOTYs are presented annually by The Toy Foundation to the top toys, games and properties of the year. The awards program supports the philanthropic work of The Toy Foundation.
Don't miss any event-related news: Sign up for our weekly e-newsletter HERE and engage with us on Twitter, Facebook and  LinkedIn!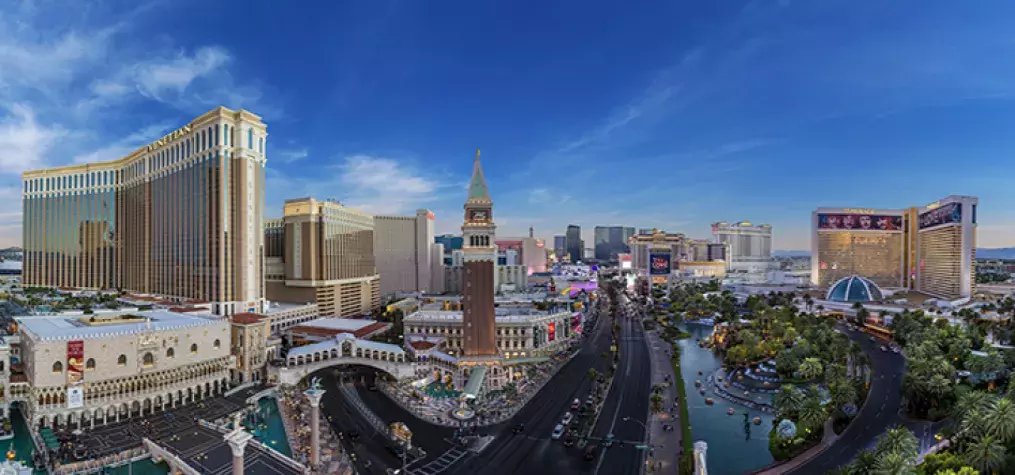 Less than six months ago, Lisa Messina joined the Las Vegas Convention and Visitors Authority (LVCVA) as the first-ever chief sales officer after leading the sales team at Caesars Entertainment. A 12-year Las Vegas resident, Messina is a graduate of Cornell University's School of Hotel Administration and serves on MPI International's board of directors. TSNN had a chance to catch up with this dynamic leader and talk to her about her vision for the new role, current shifts in the trade show industry, creating more diversity and equity within the organization, and advice to future female leaders. Lisa Messina, Chief Sales Officer, LVCVA With Las Vegas becoming The Greatest Arena on EarthTM, what are some of the things you're most excited about in your role? Our team was at The Big Game's handoff ceremony earlier this month, and I couldn't help but think, "We're going to crush it next year!" These high-profile events and venues not only drive excitement, but also provide unmatched opportunities for event planners. Allegiant Stadium hosts events from 10 to 65,000 people and offers on-field experiences. Formula 1 Grand Prix will take place in Las Vegas in November, after the year-one F1 race, the four-story paddock building will be available for buyouts and will also offer daily ride-along experiences that will be available for groups. And, of course, the MSG Sphere officially announced that it will open in September, ahead of schedule, with a U2 residency. It's going to be the most technologically advanced venue as far as lighting, sound, feel, and even scent, and it will be available for buyouts and next-level sponsorships inside and outside. There's no ceiling to what you can do when you're doing events in Las Vegas. Allegiant Stadium As the trade show and convention business returns to the pre-pandemic levels, what shifts are you noticing and how do you think they will impact the industry going forward? Our trade show organizers are very focused on driving customer experience. Most of our organizers are reporting stronger exhibitor numbers and increased numbers of new exhibitors, with trade shows proving to be almost or above 2019 levels. Now our organizers are really doubling down on driving attendance and focusing on the data to provide that individualized, customized experience to help attendees meet their goals and get the best value. Some companies continue to be cautiously optimistic with their organizational spend when it comes to sending attendees, but I think it will continue to improve. As the U.S. Travel Association makes more progress on the U.S. visa situation, we also expect a growing influx of international attendees. What are some innovative ways the LVCVA helps trade show and convention organizers deliver the most value for their events? We focus on customer experience in the same way that trade show organizers are thinking about it. We got rave reviews with the West Hall Expansion of the Las Vegas Convention Center (LVCC), so over the next two years, we will be renovating the North and the Central halls, which will include not just the same look and feel, but also the digital experiences that can be leveraged for branding and sponsorship opportunities. Vegas Loop, the underground transportation system designed by The Boring Company, is also a way we have enhanced the customer experience. Vegas Loop at the LVCC has transported more than 900,000 convention attendees across the campus since its 2021 launch. Last summer, Resorts World and The Boring Company opened the first resort stop at the Resorts World Las Vegas , with plans to expand throughout the resort corridor, including downtown Las Vegas, Allegiant Stadium and Harry Reid International Airport. The LVCVA also purchased the Las Vegas Monorail in 2020, the 3.9-mile-long elevated transportation system that connects eight resorts directly to the convention center campus. This is the only rail system in the world that integrates fares directly into show badges and registration. For trade show organizers, these transportation options mean saving time, money and effort when it comes to moving groups from the hotels to LVCC and around the city. Also, the more we can focus on building the infrastructure around the convention center, the more it supports the customer experience and ultimately supports our trade show organizers. Scheduled to debut in Q4, Fontainebleau Las Vegas will offer 3,700 hotel rooms and 550,000 square feet of meeting and convention space next to LVCC. What are some of the plans for advancing DEI (diversity, equity and inclusion) within your organization? We're currently partnering with instead of working with a leading consulting firm, to lay the foundation and create a solid DEI plan and be the leader when it comes to DEI initiatives. The heart of that journey with the consulting firm is also talking to our customers about their strategic approaches to DEI and driving innovation in this space. What are your favorite ways to recharge? My husband and I have an RV and we're outdoorsy people. So, while we have over 150,000 world-class hotel rooms and renowned restaurants right outside our doorstep, one of my favorite things to do is get out to Red Rock Canyon, the Valley of Fire, and Lake Mead. Five of the top national parks are within a three-hour drive from Las Vegas, so there's a lot you can do. We love balancing the energy of Las Vegas with nature, and we're noticing that a lot of attendees add activities off the Strip when they come here. Valley of Fire What advice would you give to women following leadership paths in destination marketing? I think it's about being laser-focused on what you want to accomplish; building a team around you that lifts you and helps you achieve your goals; and being humble and realizing that you do it as a group. No one gets this done alone. Thankfully, there are a lot of women in leadership in this organization, in our customers' organizations, and in this city that we can be really proud of. We're a formidable force that is making things happen. This interview has been edited and condensed. This article is exclusively sponsored by the Las Vegas Convention & Visitors Authority. For more information, visit HERE.