Optimism in Oman: UFI Hosts Memorable and Moving 2022 Global Congress
December 2, 2022
A testament to the far-reaching footprint of the Global Association of the Exhibition Industry (UFI), Muscat, Sultanate of Oman, set the stage for the organization's largest annual "must-attend" event: UFI Global Congress, where positivity prevailed at an impressive, collaborative gathering of industry leaders from around the world.  
The 89th edition of the congress took place at the Oman Convention & Exhibition Center (OCEC) Nov. 14-17, with more than 400 delegates attending to learn, network, discuss trends and challenges, drive business and get a preview into the industry for 2023. Large numbers of participants hailed from markets such as Germany, Italy, the U.K., the U.S., India and the Gulf Cooperation Council region (Bahrain, Kuwait, Oman, Qatar, Saudi Arabia and United Arab Emirates).
Oman's Minister for Heritage and Tourism Salim bin Mohammed bin Said Al Mahroqi attended the opening of the congress and held talks with the UFI leadership, underlining the importance of the exhibition industry for the development of Oman.
According to Kai Hattendorf, CEO and managing director of UFI, the 2022 UFI Global Congress will be remembered for a long time.
"We returned to the Middle East for the first time in 10 years, and we see significant progression in the industry throughout the region, with more markets growing their infrastructure and offerings for our sector," Hattendorf said. "We re-balanced the mix between networking and content time, the networking areas were buzzing, the stands of our partners were busy, and we were delighted to welcome many first-time attendees."
Hattendorf pointed to one overarching takeaway and highlights from the event.
"When you bring together industry leaders from all around the world, you get a good read on the state our industry is in," Hattendorf told TSNN. "One key takeaway for me was the very positive, optimistic atmosphere, despite the operational challenges that we are all facing."
He continued, "My three session highlights were the keynote from Sharmeen Obaid-Chinoy, our new format, the Global Exhibition Industry Board Meeting, and the session from our Next Generation Leaders about our industry's new staffing narrative."
Speakers and Content Program
With approximately 60 speakers from around the world, the congress delivered a mix of keynotes and breakout sessions.
Opening speaker (and two-time Oscar winner) Sharmeen Obaid-Chinoi showed the audience the power of story in transforming the world. She helped the audience understand how the invisible can be brought into view, and how we all have the power to change the way we think and view culture. She received a standing ovation at the end of her keynote. 
UFI's 2022 Class of Next Generation Leaders, Monika Baro, Jo Kowalsky, Justine Rebel, Daniella Galante, Maria Victoria Piñeres and Jon Yahirun, followed Obaid-Chinoi's advice and presented their own powerful words—the story of a new career narrative to attract talent globally into the exhibition industry. 
Sandy Angus, outgoing chairman at Montgomery Group, led the first edition of a new format for UFI Global Congress, the Global Exhibition Industry Board Meeting. During the session, leaders such as David Doft (CFO, Emerald Expositions), Anne Lafére (CEO, Easyfairs), Derar al Manaseer (director of strategy and investment, ADNEC), Christian Gerdau (CIO, Messe München) and Kevin O'Donoghue (HR director, RX Global) discussed today's challenges and mid-term strategies.
Also taking place for the first time, a designated speed networking session made sure first timers as well as congress veterans got to know a number of new people ahead of the main program.
Through a mix of session formats, delegates could engage directly in topics of specific relevance to them. The xChange stage provided an additional segment with presentations from destinations and event tech companies.
UFI members can access all the talks and presentation in the members section of the UFI website.
Net Zero Carbon Events Initiative  
Sustainability continues to drive a lot of UFI's activities. Alexander Alles, executive director of the Joint Meetings Industry Council, and Hattendorf reported on the roadmap of the Net Zero Carbon Events initiative, which had just been presented by both on them and many industry leaders at the COP27 Global Climate Conference in Sharm El Sheikh on Nov. 11.
Many UFI members have been among the first industry groups joining the pledge, and the congress honored their engagement. UFI is proud to be one of the more than 400 industry entities supporting the pledge.
Hattendorf encouraged others in the industry to take immediate action in the effort to combat climate change.
"Sign up and join the initiative!" he advised. "And download and use the many resources, especially the "Quick Guide to Get Started." It is full of tangible and operational tips and quick wins."
He continued, "And in everyday industry life, reduce waste, source energy from renewable sources, and stop using single-use plastic. Everything helps to get started."
Memorable Moments and Experiences  
The 2022 UFI Global Congress included many networking opportunities and special moments. The UFI Sports Club offered running, Pilates on the beach and Omani yoga. The Grand Night Out took place under the stars at magical Turtle Bay and included many local cultural experiences. Meanwhile, the post-congress day tours took around 200 participants to the Grand Mosque, the Muscat Souk and to selected other sites of the Sultanate.
"So many people were literally blown away by the hospitality and the beauty of Oman," Hattendorf said. "It offers a different experience from the better-known destinations."
He added that the event's host venue, OCEC, is modern and well connected, and offers the right amount of space for exhibitions and conferences in the region.
New UFI President  
At the close of the congress, Michael Duck, executive vice president at Informa Markets, formally took over the office of UFI president for the year to come.
Addressing the global UFI community, Duck spoke of the industry as a "catalyst."
"It is a wonderful way to bring people and communities and our hopes and aspirations together," Duck said. "I am hugely honored to be in this position as your president, and I will ensure that I will work hard with the UFI team and the board to bring back our industry from the challenges of COVID and other economic and geopolitical matters that have affected both our business and personal lives."
Duck succeeds, Monica Lee-Müller, managing director of Hong Kong Convention and Exhibition Centre (Management) Limited. In 2023.
UFI Global Congress—Past, Present and Future
Open to more than 50,000 industry professionals globally who work for UFI member companies, the UFI Global Congress takes place each November and is known as the exhibition industry's largest global meeting of the year, traveling to corners around the globe.
Recent hosts have been Muscat, Sultanate of Oman (2022); Rotterdam, The Netherlands (2021); Bangkok, Thailand (2019); St. Petersburg, Russia (2018); and Johannesburg, South Africa (2017). 
In 2020, due to COVID-19- related global travel restrictions, the congress went digital, with programming from Hong Kong, Dubai, London and Bogota. 
In 2023, the UFI Global Congress will head to Las Vegas, with the Las Vegas Convention and Visitors Authority hosting the event in the U.S. for the first time. It will take place at Aria Resort and Casino Nov. 1-4.
Meanwhile, at this year's congress, UFI unveiled the site for the 2024 UFI Global Congress: Cologne, Germany. It will be hosted by Koelnmesse and take place from Nov. 20-23, 2024. 
The new Confex Congress Center at Koelnmesse, one of the most modern trade show centers in Europe, will be the host venue.
"What a way for me to end my turn as the UFI president— being able to share the news that our association's biggest event will return to Cologne, one of UFI's 20 founding members, in 2024," said Monica Lee-Müller, UFI's outgoing president. "Cologne won the bid against strong competition from around the world."
The 2024 event will arrive during a milestone year, according to Gerald Böse, CEO of Koelnmesse.
"In 2024, we will celebrate 100 years of Koelnmesse, thus, it will be the year when tradition and future come together in a very special way," Böse said. "The time and place will be just right for another major event of our industry."
2022 UFI General Assembly
The 2022 UFI General Assembly took place before the UFI Global Congress, with UFI officials  and representatives from UFI member companies gathering to review the organization's activities in 2022 and confirm plans for the year ahead.
The event highlighted UFI's advocacy efforts, events, research and education, while shedding light on UFI's strong increase in membership and post-pandemic industry recovery, which faced additional challenges this year, including Russia's invasion of Ukraine, fluctuating economic conditions around the world, and ongoing pandemic closures, especially in China.  
"From post-pandemic recovery to refugee support and war in Europe, and from sustainability challenges to the return of inflation rates not seen in a generation, 2022 has it all," Hattendorf said.
Despite these issues, he believes UFI and its members are well-positioned for whatever they will face in 2023 and beyond.
"What makes UFI so strong in times like this is that many UFI members have encountered one or more of these challenges before, and they are happy to share their learnings and strategies with each other, Hattendorf said. "As the UFI team, we remain committed that all resources we provide are there to help our members navigate these challenges successfully."
The Road Ahead
Following the 2022 UFI Global Congress and 2022 UFI General Assembly, Hattendorf pointed to UFI's "5 Trends to Watch" for the coming year.
"For 2023, our headlines are: We must double down on customer focus. The climate crisis will hit. Data is a key asset—staffing as well. And change in the industry will accelerate."
Hattendorf is confident the optimism will continue into 2023 as the industry moves forward while dealing with challenges ahead.
"There are many things to be excited about," he said. "Our barometer research predicts that the first markets around the world will exceed their pre-pandemic size in 2023 already. China will reopen at some point. We will see the progress on the journey toward net zero carbon events. And we will bring our UFI Global Congress to the U.S. in November 2023."
Don't miss any event-related news: Sign up for our weekly e-newsletter HERE, listen to our latest podcast HERE and engage with us on Twitter, Facebook, LinkedIn and Instagram!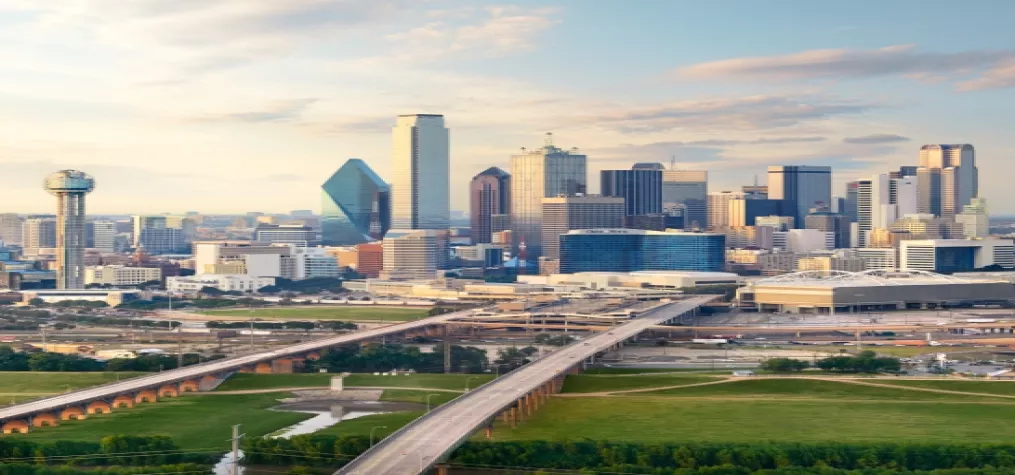 Dallas already boasts 35,000 hotel rooms, award-winning global cuisine, and a walkable downtown. But we are just getting started. Visit Dallas is thrilled to announce that the city of Dallas is doubling down with a massive new convention center and entertainment district. Featuring 800,000 square feet of exhibit area, 260,000 square feet of meeting rooms, and 170,000 square feet of ballroom. The center will connect business travelers with dining and shopping options in the popular Cedars District means more places to get down to business, and even more ways to unwind. "Dallas is already a great meetings and conventions destination, with the accessibility of two major airports, affordable labor, and an outstanding hotel product," said D. Bradley Kent, Visit Dallas senior vice president and chief sales officer. "The new center and Convention Center District will enhance Dallas' competitive position and are exactly what our customers' need and have been asking for." What's New – AT&T Discovery District Located in the heart of Downtown Dallas, this new district on the AT&T corporate campus is tailor-made for groups of all sizes. It boasts a multi-sensory experience, including outdoor event space, the AT&T Theater, and multiple dining outlets including JAXON Beer Garden and The Exchange, a bustling food hall. Hotels Coming Soon Names like the JW Marriott (Downtown), lnterContinental Dallas (Uptown), and Hotel Swexan (Uptown) are adding luxury amenities and bountiful event spaces. The projects will debut in 2023 and beyond. JW Marriott This new, 15-story, 283-room hotel will open in the heart of the city's downtown Arts District this year. The property features a 25,000-square-foot grand ballroom, as well as a spa, restaurant, lobby bar, fitness center, and a rooftop pool deck and bar. InterContinental Dallas  Located in Cityplace Tower in Uptown, InterContinental Dallas will feature sweeping panoramic views of the Dallas skyline. Guests will enjoy spacious, high-end rooms and amenities, including more than 21,000 square feet of event space.   Hotel Swexan Hotel Swexan, a new, 22-story luxury property, is rising in Uptown's Harwood District and will make its mark on the Dallas skyline. Opening this year, it is a sculptural building with cantilevered upper floors, as well as a 75-foot rooftop infinity-edge swimming pool and a hidden underground lounge.