Summit to Debut in Seattle as North America's First High-Rise Convention Center
January 20, 2023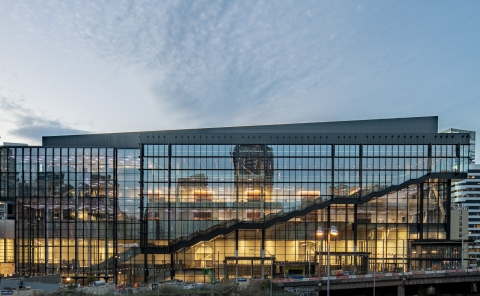 The Seattle Convention Center (SCC) is gearing up to host opening celebrations on Jan. 25 for Summit, its $2 billion high-rise convention center in downtown Seattle. With 573,770 square feet of event space, the addition nearly doubles the capacity of the SCC.
Summit features 62 meeting rooms, a 58,000-square-foot, column-free and divisible ballroom with 3,900 suspended planks of reclaimed wood, 248,450 square feet of exhibit space, 140,700 square feet of naturally lit lobby space and the 14,000-square-foot outdoor Garden Terrace. Covering 1.5 million square feet, Summit and SCC's original Arch building, located one and half blocks away, together create a campus built to usher in the future of meetings and conventions.
"This is a thrilling moment for Seattle and those who have worked tirelessly to bring us to this point," said Tammy Canavan, president and CEO of Visit Seattle. "Summit is just the latest piece in a tapestry of new Seattle offerings that will welcome visitors and [event] attendees into the central fabric of our community."
Canavan added, "Combined with the city's ever-expanding and diverse hotel inventory, SEA Airport's new international arrivals facility, and the enhancements being made to our beloved waterfront, Seattle's singular beauty and spirit will be on full display for our guests."
Economic Impact
More than a decade ago, the SCC's board of directors determined that the economic impact benefiting the state of Washington could be substantially increased by the addition of a second SCC facility. Between 2012 and 2015 alone, the center turned away more than 300 potential events due to the unavailability of space in its Arch building on the dates desired. Following an extended planning and design period, the expansion broke ground in August 2018.
"Congratulations are in order to the board for having the vision to build two stacked buildings in downtown Seattle," said Frank Finneran, chair of the SCC Board of Directors. "This project was more complex and difficult than building in the suburbs, but the vision has now become a reality."
Finneran added, "We could not have accomplished this without our trusted partners, including the developers at Pine Street Group, the talented design crew at LMN Architects and Clark/Lewis for the construction. It took a large, talented team to make it happen."
There are already 58 events booked at Summit, with an additional eight using both Arch and Summit, significantly increasing the SCC's economic impact on the region.
"We're thrilled for the new opportunities Summit together with Arch will create for our clients, community and industry," said Jeff Blosser, president and CEO of the SCC. "The Seattle Convention Center is pleased to increase its availability of space for event planners and extend its connection to those who live in, visit or work downtown."
Distinctive Setting and Design
Summit's location in the heart of downtown offers views of the mountains and surrounding bay and easy walking proximity to a multitude of entertainment, retail and accommodations for attendees, with approximately 7,000 hotel rooms within a six-block radius. The building is also situated off Interstate 5, providing easy access to Seattle-Tacoma International Airport, and is near to the Link light rail and other public transportation. For those driving in, SCC operates three garages, including one at Summit.
Summit is designed to engage and enrich its distinctive urban setting. The stacked configuration maximizes the efficiency of the site and effective flow of attendees between event spaces, and the large windows and skylights bring in natural light to all levels, including the below-grade exhibition floor. The building incorporates a layering of soft and hard elements as well as an homage to Seattle. The Hillclimb, a grand, suspended stair and escalator system, features wood native to the Pacific Northwest and provides access from street level to the ballroom level, as well as seating.
Summit is projected to achieve LEED Gold certification, having used environmentally friendly design elements during the construction. Its operations are equally focused on sustainability, including using sustainably sourced, recycled materials throughout the building, such as plant-based acoustic ceiling tiles and bio-based fabric panels. The rooftop incorporates solar panels that will improve the building's energy performance by 30% over the baseline rating, and a rainwater harvesting system will reduce irrigation usage by a projected 89%. Summit also ties in a touch of history with its drive for sustainability by using reclaimed wood from a business that formerly occupied part of the construction site. Upon entering the site, visitors will be graced by a striking wooden chandelier designed by local artist Cathy McClure, the shadows from which are projected onto the floor and recall a sun-dappled forest. This is one of Summit's many notable visual pieces that are part of the building's years-long, $6.5 million public art initiative that is continually sourcing works from diverse, local creators.
Caring for Community
Summit reflects the SCC's ongoing commitment to the surrounding community with a $93 million benefits package to enhance the lives of area residents via affordable public housing, public art and open spaces, and improvements to the pedestrian, bicycle and transit infrastructure. Approximately $40 million of the investment package was devoted to the creation and preservation of affordable housing units, a legacy initiative that carried over from the SCC's Board of Directors in their civic mission to have a positive impact on the community while constructing the Arch building. While planning Summit, the board of directors established a goal of awarding $80 million in work scopes to minority- and women-owned businesses. Thus far, nearly $150 million in work scopes have been awarded to these businesses, more than doubling the initial goal. With the opening of Summit, the additional generated business is expected to have far-reaching economic impact via attendee spending at area businesses, restaurants and hotels.
Don't miss any event-related news: Sign up for our weekly e-newsletter HERE, listen to our latest podcast HERE and engage with us on Twitter, Facebook, LinkedIn and Instagram!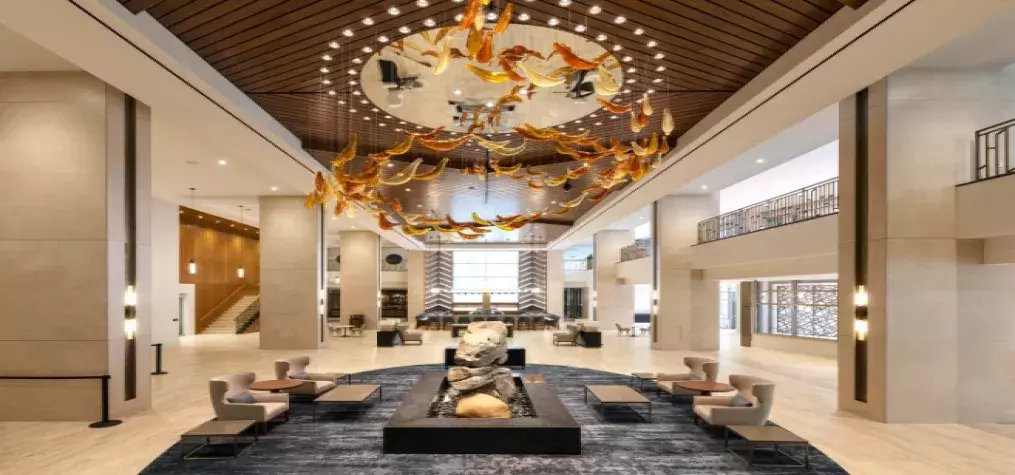 Located in beautiful North Carolina, Harrah's Cherokee is the perfect mountain getaway with breathtaking views of the Great Smoky Mountains and new additions to its resort and conference spaces sure to elevate any meetings or event. Completed in 2021, Harrah's Cherokee's latest $330 million expansion project introduced an entirely new fourth hotel tower, The Cherokee, as well as an additional 83,000 square feet of meeting space with the Cherokee Convention Center. The Cherokee tower brings with it 725 rooms and 70 luxurious suites spread out over 19 floors for a grand total of 1,800 rooms across the entire resort. The new rooms feature a sleek design with an earth-toned color palette and modern amenities. In addition to the new rooms, the expansion also brought with it a luxurious new lobby and lobby bar, a fitness center, a coffee & pastry bar, and a second pool. Conventions, trade shows, banquets, receptions, and even the smallest, most intimate gatherings can find the perfect arrangement at Harrah's Cherokee with its 130,000 square feet of flexible meeting space – including the Cherokee Convention Center. The resort offers a myriad of different spaces and configuration options for events, but the largest spaces include the following: 32,000-sq-ft Cherokee Convention Center ballroom with 22 meeting spaces 11,100-sq-ft Cherokee Convention Center ballroom pre-function space 33,000-sq-ft Cherokee Exhibit Hall 6,000-sq-ft Cherokee Exhibit Hall Pre-Function 13,801-sq-ft Council Fire Ballroom able to be reconfigured into as many as four ballrooms from 3,100 to 3,529-sq-ft each 16,815-sq-ft Event Center able to be configured in six different ways to accommodate 100 to 1,500 guests and offers four VIP suites, box seating, and more than 1,100 balcony seats. In addition to the new accommodations and meeting space, Harrah's Cherokee has also opened several new restaurants as part of the expansion including Guy Fieri's Cherokee Kitchen + Bar which includes the chef's award-winning burgers and barbeque on the menu. Another celebrity chef has also made their mark on the resort with the opening of Gordon Ramsay Food Market which features eight dining concepts ranging from sushi to New York-style deli sandwiches and classic fine-dining fare. Longtime Asheville favorite, Wicked Weed Brewing Pub has also debuted a new location next to Harrah's Cherokee Event Center creating the perfect after-event center with its bright and bold design, over thirty different beers, and live music on weekends. An easy drive from many of the largest cities in the Southeast, Harrah's Cherokee provides the perfect blend of majestic mountainscapes, luxurious new accommodations, and authentic Native American culture.