5 Ways a Client Experience Team Brings Your Hybrid + Virtual Event Closer to Success
June 22, 2022
An event is a culmination of months of meticulous planning. Everything—from laying out the plan to conducting dry runs to post-event marketing—falls in the event planner's arsenal. The result? Stress, stress and more stress. 
But what if you had someone to share the stress (read load)? That would be much better, right? Well, that's where a designated client experience team comes into play. This team is available with you throughout the event providing real-time support and post-event reporting and analytics. Here are five reasons to have a client experience team in your green room.
#1 Aligning your event and company goals
Be it increasing your revenue, session engagement, post-event NPS score, sponsorships or brand awareness, a client experience team will be right there to help you build a strategy before you dive into the event. 
So if you're hosting a virtual job fair, and your goal is to advertise different recruiters, a client experience manager (CXM) would recommend you include virtual booths to bring awareness to each company and its offerings.
#2 Executing onboarding and dry runs 
 A client experience team makes it easier to adopt new technology. They will walk you through the platform, share best practices and answer customer questions as much as needed. They'll provide video guides to help you get started at your own pace and they'll help you put together dry runs to reduce the chances of problems during the event. This is an opportunity for you to identify technical problem areas in advance and get them addressed long before the event. 
‍#3 Enabling third-party integrations

 
Technology is a helpful tool for event organizers, but it can be overkill to adopt every single tool out there. Work with a client experience manager who has experience integrating technology, and find third-party applications that are a perfect fit for your needs. By doing this you will also save yourself from the hassle of integrating new technology because the CXM has it covered for you. 
‍

#4 Troubleshooting and debugging 
It is Murphy's world, and in his famous words - everything that can go wrong will go wrong. But when you're an event organizer, you know that the show must go on. With a designated client experience team you'll get real-time event support and they'll troubleshoot any technical issues that occur as your event progresses. 
#5 Gathering and analyzing post-event data
You don't want to finish your event wondering what worked and what didn't. A client experience manager will help you put together the right data, measure your event's ROI, identify the engagement levels of your audience, speakers and sponsors and give suggestions for your future events.
You can also invite your designated CXM to your event debrief meetings to discuss your event's performance and action items for future events. 
‍Want us to aid you with our white-glove support for your events? Request a demo to learn more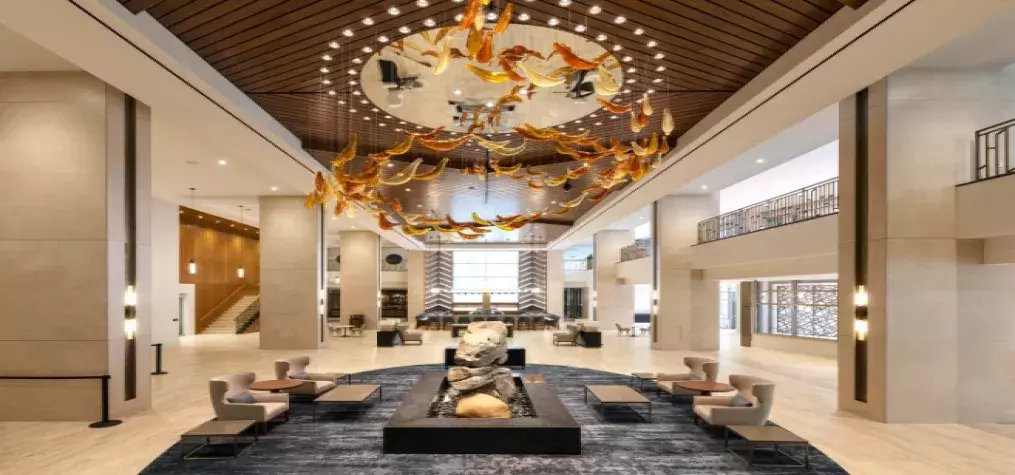 Located in beautiful North Carolina, Harrah's Cherokee is the perfect mountain getaway with breathtaking views of the Great Smoky Mountains and new additions to its resort and conference spaces sure to elevate any meetings or event. Completed in 2021, Harrah's Cherokee's latest $330 million expansion project introduced an entirely new fourth hotel tower, The Cherokee, as well as an additional 83,000 square feet of meeting space with the Cherokee Convention Center. The Cherokee tower brings with it 725 rooms and 70 luxurious suites spread out over 19 floors for a grand total of 1,800 rooms across the entire resort. The new rooms feature a sleek design with an earth-toned color palette and modern amenities. In addition to the new rooms, the expansion also brought with it a luxurious new lobby and lobby bar, a fitness center, a coffee & pastry bar, and a second pool. Conventions, trade shows, banquets, receptions, and even the smallest, most intimate gatherings can find the perfect arrangement at Harrah's Cherokee with its 130,000 square feet of flexible meeting space – including the Cherokee Convention Center. The resort offers a myriad of different spaces and configuration options for events, but the largest spaces include the following: 32,000-sq-ft Cherokee Convention Center ballroom with 22 meeting spaces 11,100-sq-ft Cherokee Convention Center ballroom pre-function space 33,000-sq-ft Cherokee Exhibit Hall 6,000-sq-ft Cherokee Exhibit Hall Pre-Function 13,801-sq-ft Council Fire Ballroom able to be reconfigured into as many as four ballrooms from 3,100 to 3,529-sq-ft each 16,815-sq-ft Event Center able to be configured in six different ways to accommodate 100 to 1,500 guests and offers four VIP suites, box seating, and more than 1,100 balcony seats. In addition to the new accommodations and meeting space, Harrah's Cherokee has also opened several new restaurants as part of the expansion including Guy Fieri's Cherokee Kitchen + Bar which includes the chef's award-winning burgers and barbeque on the menu. Another celebrity chef has also made their mark on the resort with the opening of Gordon Ramsay Food Market which features eight dining concepts ranging from sushi to New York-style deli sandwiches and classic fine-dining fare. Longtime Asheville favorite, Wicked Weed Brewing Pub has also debuted a new location next to Harrah's Cherokee Event Center creating the perfect after-event center with its bright and bold design, over thirty different beers, and live music on weekends. An easy drive from many of the largest cities in the Southeast, Harrah's Cherokee provides the perfect blend of majestic mountainscapes, luxurious new accommodations, and authentic Native American culture.