Palm Springs Nightlife—Hip Pool Scenes Heat Up the Desert
May 20, 2022
Sponsored Exclusively by Visit California
Palm Springs is the best kind of party town, always evolving and never resting on its laurels. The cool crowd heads to the desert region for hip hotels with poolside DJs, al fresco cocktails, live entertainment, and energetic dance floors.  
Take a dip—or just hang out poolside with a Cranky Coyote cocktail—at the Ace Hotel & Swim Club, or venture into the hotel's Amigo Room, a quirky hipster-magnet that on any given night may host stand-up comedy, bingo, and even arts-and-crafts sessions. Serious beer aficionados need look no further than Yard House, a laid-back spot that caters to hop-heads and kolsch lovers alike with a host of unusual microbrews from all over the world.
Head to the recently resurrected Hotel Zoso for more pool party fun, or check out relative newcomer High Bar at Rowan Palm Springs, to see the only rooftop pool bar in the area. Night-time also brings a host of bars serving desert-cool cocktails in outdoor settings: on weeknights, the Soleil at the Riviera lets you relax by poolside fire pits to watch the stars while you sip.
If working it out on the dance floor is what you have in mind, party music keeps thumping late at Shanghai Reds, Village Pub, and Zelda's Nightclub, while Toucan's and Hunter's Nightclub see to it that the LGBTQ+ crowd has its share of raucous boogie-down too. For live entertainment, see who's performing at area casinos, which draw headliners ranging from classic crooners (Johnny Mathis) to of-the-moment stars (Robin Thicke, Snow Patrol). On Thursday evenings, a more casual party unravels along Palm Canyon Drive, as locals and visitors enjoy live bands, booths set up by local shops and artisans, and various food purveyors at VillageFest.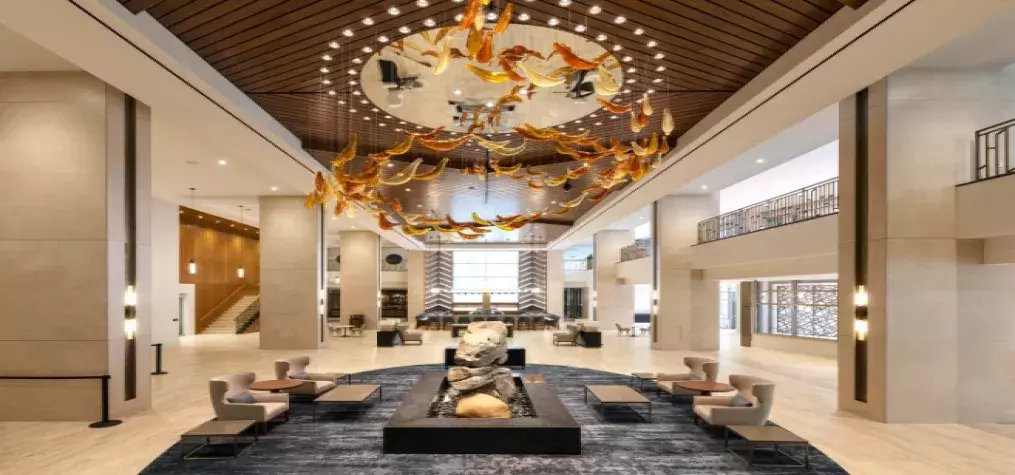 Located in beautiful North Carolina, Harrah's Cherokee is the perfect mountain getaway with breathtaking views of the Great Smoky Mountains and new additions to its resort and conference spaces sure to elevate any meetings or event. Completed in 2021, Harrah's Cherokee's latest $330 million expansion project introduced an entirely new fourth hotel tower, The Cherokee, as well as an additional 83,000 square feet of meeting space with the Cherokee Convention Center. The Cherokee tower brings with it 725 rooms and 70 luxurious suites spread out over 19 floors for a grand total of 1,800 rooms across the entire resort. The new rooms feature a sleek design with an earth-toned color palette and modern amenities. In addition to the new rooms, the expansion also brought with it a luxurious new lobby and lobby bar, a fitness center, a coffee & pastry bar, and a second pool. Conventions, trade shows, banquets, receptions, and even the smallest, most intimate gatherings can find the perfect arrangement at Harrah's Cherokee with its 130,000 square feet of flexible meeting space – including the Cherokee Convention Center. The resort offers a myriad of different spaces and configuration options for events, but the largest spaces include the following: 32,000-sq-ft Cherokee Convention Center ballroom with 22 meeting spaces 11,100-sq-ft Cherokee Convention Center ballroom pre-function space 33,000-sq-ft Cherokee Exhibit Hall 6,000-sq-ft Cherokee Exhibit Hall Pre-Function 13,801-sq-ft Council Fire Ballroom able to be reconfigured into as many as four ballrooms from 3,100 to 3,529-sq-ft each 16,815-sq-ft Event Center able to be configured in six different ways to accommodate 100 to 1,500 guests and offers four VIP suites, box seating, and more than 1,100 balcony seats. In addition to the new accommodations and meeting space, Harrah's Cherokee has also opened several new restaurants as part of the expansion including Guy Fieri's Cherokee Kitchen + Bar which includes the chef's award-winning burgers and barbeque on the menu. Another celebrity chef has also made their mark on the resort with the opening of Gordon Ramsay Food Market which features eight dining concepts ranging from sushi to New York-style deli sandwiches and classic fine-dining fare. Longtime Asheville favorite, Wicked Weed Brewing Pub has also debuted a new location next to Harrah's Cherokee Event Center creating the perfect after-event center with its bright and bold design, over thirty different beers, and live music on weekends. An easy drive from many of the largest cities in the Southeast, Harrah's Cherokee provides the perfect blend of majestic mountainscapes, luxurious new accommodations, and authentic Native American culture.