Taste Trends: Chef Walter Perez, Executive Sous Chef, Walter E. Washington Convention Center/Aramark
November 28, 2022
Growing up in Guatemala, Chef Walter Perez remembers watching his mom and aunt cooking and admiring their creative talent for combining different ingredients into their recipes, an admiration that inspired his journey into the culinary arts. Fast-forward almost three decades later, and you will find the award-winning chef infusing his talent and passion for food and culture into culinary creations bearing a unique Latin American flair that continues to please meeting and event guests at the Walter E. Washington Convention Center in Washington, D.C., year after year.
"It's truly a blessing to be born in a country like Guatemala because of the multitude of cultural influences like France, Spain, Africa and West Caribbean cultures that mix into one," Perez says. "Just imagine—that brings so many different styles and spices that complement our own traditional recipes to create a unique dish full of flavor and art. It contributes to my cooking and brings savory dishes that everyone comes to love." 
Prior to joining the culinary team at Aramark, Walter E. Washington Convention Center's exclusive food and beverage partner, in 2006, followed by his promotion to executive sous chef three years later, the award-winning Perez worked his way up the ranks at multiple Marriott Hotels before landing at Gaylord Hotels as executive sous chef. 
A master student of international cuisine, Perez has served on culinary teams for a host of high-profile events, including the largest plated sit-down dinner at the convention center for 17,500 people, as well as creating and executing delicious fare for the presidential inauguration of George W. Bush, Barack Obama and Donald Trump. The decorated chef was also recently recognized during the Annual Hispanic Congressional Dinner 2022, with President Joe Biden in attendance, for his exceptional accomplishments in creating inspirational Latin cuisine. 
TSNN enjoyed spending some time with Chef Perez to find out what he likes most about working in the convention industry, how culinary teams play an important role in helping event planners overcome the challenges of limited F&B budgets, why fusion cuisine is always a crowd-pleasing option for event groups and why the growing diversity of hospitality kitchens isn't a trend, but a movement. 
What drew you to working in the hospitality and events industry, and what do you like most about working in a convention center?
The challenge of working in a fast-paced environment. Every client is different, so it truly keeps me on my feet by creating the need to acquire new skills to meet the requests of client needs. What I like about working in the convention center is that every event is different, and as a chef, it's very exciting because you never know who you're cooking for. In my 28 years of working in the culinary arts, I've worked in many convention centers in places such as Detroit, Miami, Orlando and Baltimore, just to name a few. But what I can say is that working in a convention center is the best training ground for every upcoming chef.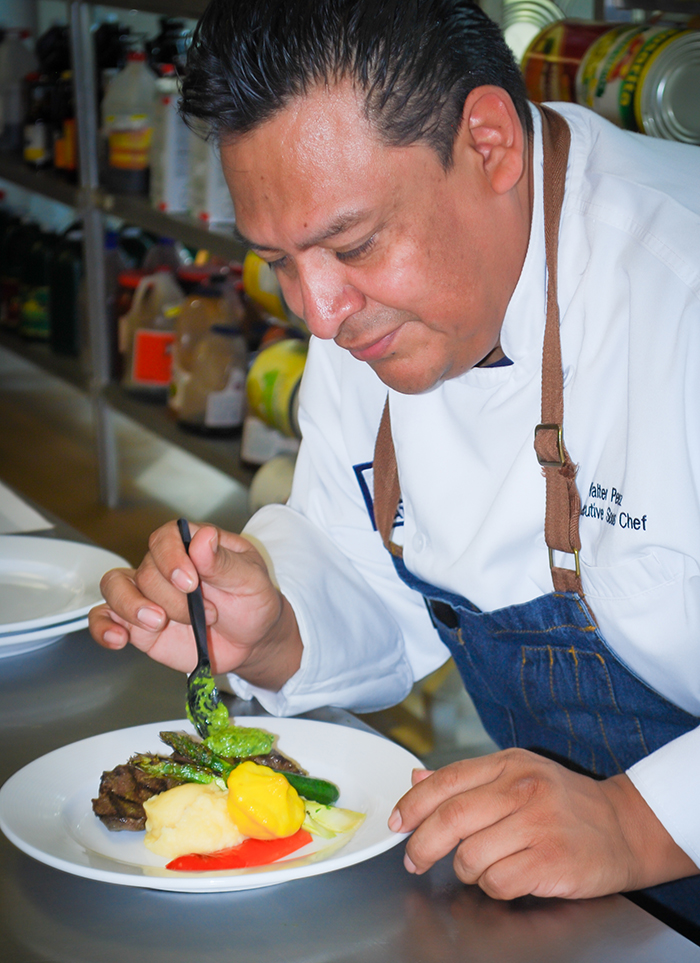 What are the biggest and most exciting culinary trends you're seeing and executing at meetings and events these days?

 
One of the biggest trends I've seen and am currently using is the fusion of culinary arts from different cultures. I noticed this trend from working at an awards gala called 'The RAMMYS' over the years. Fusion recipes bring the variety of herbs and spices from all over the world into one dish, and I believe the art of culinary fusion is something that will never go away but instead will continue to flourish all over the world.
Many event planners are now working with tighter post-pandemic budgets, especially now due to inflation and its impact on food and beverage costs. How can planners overcome this obstacle while still providing delicious fare for attendees?
This is not a simple question to answer, because as much as I play a part in this process, I'm just one piece of the puzzle. It's a [combined effort] between the convention center, sales department, general manager and executive chefs to create a menu that works according to the budget of the client, while still using the best ingredients available to create a dish that doesn't diminish the quality of that recipe. So it takes communication between all working parts to move towards the expectation of the client's desires.
Are you seeing improvements in diversity in executive chef roles at convention centers, and if not, what needs to happen to create more racial equity in our industry?
I can definitely say that there is diversity in the convention center. In this day and age, with technology greatly accessible, diversity in this industry is at an all-time high. Furthermore, I love that I work with a diverse team because everyone brings something different to the table. Can you imagine if everyone cooked the same? It would be very difficult to offer a menu to the client that would complement the taste palate of their guests.

Don't miss any event-related news: Sign up for our weekly e-newsletter HERE, listen to our latest podcast HERE and engage with us on Twitter, Facebook, LinkedIn and Instagram!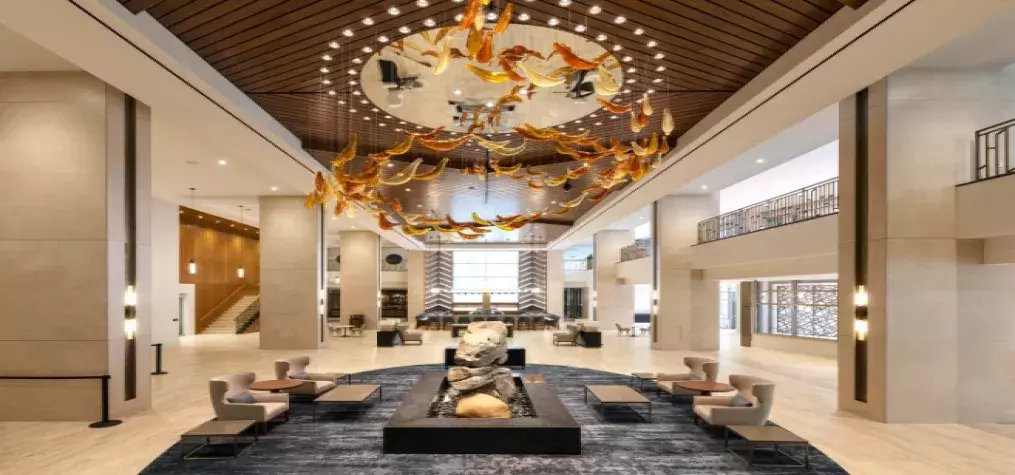 Located in beautiful North Carolina, Harrah's Cherokee is the perfect mountain getaway with breathtaking views of the Great Smoky Mountains and new additions to its resort and conference spaces sure to elevate any meetings or event. Completed in 2021, Harrah's Cherokee's latest $330 million expansion project introduced an entirely new fourth hotel tower, The Cherokee, as well as an additional 83,000 square feet of meeting space with the Cherokee Convention Center. The Cherokee tower brings with it 725 rooms and 70 luxurious suites spread out over 19 floors for a grand total of 1,800 rooms across the entire resort. The new rooms feature a sleek design with an earth-toned color palette and modern amenities. In addition to the new rooms, the expansion also brought with it a luxurious new lobby and lobby bar, a fitness center, a coffee & pastry bar, and a second pool. Conventions, trade shows, banquets, receptions, and even the smallest, most intimate gatherings can find the perfect arrangement at Harrah's Cherokee with its 130,000 square feet of flexible meeting space – including the Cherokee Convention Center. The resort offers a myriad of different spaces and configuration options for events, but the largest spaces include the following: 32,000-sq-ft Cherokee Convention Center ballroom with 22 meeting spaces 11,100-sq-ft Cherokee Convention Center ballroom pre-function space 33,000-sq-ft Cherokee Exhibit Hall 6,000-sq-ft Cherokee Exhibit Hall Pre-Function 13,801-sq-ft Council Fire Ballroom able to be reconfigured into as many as four ballrooms from 3,100 to 3,529-sq-ft each 16,815-sq-ft Event Center able to be configured in six different ways to accommodate 100 to 1,500 guests and offers four VIP suites, box seating, and more than 1,100 balcony seats. In addition to the new accommodations and meeting space, Harrah's Cherokee has also opened several new restaurants as part of the expansion including Guy Fieri's Cherokee Kitchen + Bar which includes the chef's award-winning burgers and barbeque on the menu. Another celebrity chef has also made their mark on the resort with the opening of Gordon Ramsay Food Market which features eight dining concepts ranging from sushi to New York-style deli sandwiches and classic fine-dining fare. Longtime Asheville favorite, Wicked Weed Brewing Pub has also debuted a new location next to Harrah's Cherokee Event Center creating the perfect after-event center with its bright and bold design, over thirty different beers, and live music on weekends. An easy drive from many of the largest cities in the Southeast, Harrah's Cherokee provides the perfect blend of majestic mountainscapes, luxurious new accommodations, and authentic Native American culture.