Tech Giants: venueScout's Jimé Essink on His Big Transition, Seamlessly Uniting Organizers, Venues and Suppliers, and the Future of Events
December 2, 2022
After being introduced to trade shows 40 years ago during his first job in public relations for the Netherlands Chambers of Commerce, Jimé Essink has had a prolific career in the trade show and conference industry, and his enthusiasm for events has never waned.  
"I am passionate about the teamwork and what goes behind the organization of events, the anxiousness and anticipation if all will go well, and the shared excitement when the event is a success," Essink said. "I will, for example, never forget the joy we had with the Hong Kong jewelry team, when we split the show successfully over the two venues in Hong Kong and created the largest and most fantastic jewelry show in the world."
Essink is referring to his 12-year tenure as president of UBM Asia/Informa Markets Asia, which followed roles as president of VNU Exhibitions Asia and CEO of VNU Exhibitions Europe.
In 2019, he retired from UBM Asia/Informa Markets Asia, having decided it was time to return to Europe and do something different—and that pursuit led him to a startup venture.
Essink's good friend and fellow jwc board member Jochen Witt, former president and CEO of Koelnmesse and UFI, asked him to join his consulting company.
"One of the projects we picked up was venueScout, which was only a rough idea at that time (two years ago)," Essink said.
Following extensive research and build-out between Witt, Essink and Gerd Weber, former executive vice president of Koelnmesse, and a development team, venueScout was born—designed to be a better framework and system for event organizers and meeting planners to search for and evaluate global event venue locations alongside event service providers.
venueScout officially launched in November with thousands of listings, making it a definitive global platform connecting professionals looking to organize and host events and venue operators and service providers looking to capture more business.
What does Essink enjoy most about his new role in the industry?
"I am very excited to be the CEO of this venture because I can fully utilize my knowledge and network in the events industry and at the same time, learn many new things," he said. "Believe me, the development of a tech platform is very different than the organization of a trade show."
We had the pleasure of sitting down with Essink to discuss the rewards and challenges of his new position, how venueScout is addressing event professionals' biggest obstacles and setting itself apart, and where he sees the events industry heading in a post-pandemic world.  
What have been some of the most interesting and rewarding aspects of your transition from running a large show portfolio to working as CEO for venueScout? 
It is very interesting to be involved in a real startup. You need to think about every detail of the business and its operations, and everything needs to be developed.  And it is great to work together with a team of friends who are also your business partners.
What have been some of the greatest challenges, and how have you overcome them? 
Software development is much more difficult than I could have imagined. There are many user cases to consider, features to enhance and a tremendous amount of testing involved to get each component of venueScout toward the high user experience we set. And you are so dependent on your engineers. You need patience and to be creative about alternative solutions when you really get stuck. In the end, it worked out fine, since we have a very sophisticated platform.
What are some of the biggest pain points event organizers, planners and suppliers are facing today, and how is venueScout providing trendsetting solutions for them? 
One of the major pain points will be the realization of the new margins organizers will have to adjust to, given that several events will be smaller, and organizing and exhibiting costs will increase (energy, construction, sustainability, inflation in general). venueScout is a very important tool for meeting planners and organizers to become more efficient in finding the venues and service providers needed to host an event. For venues and suppliers, it is a cost-effective way to promote themselves. And the rating and feedback function should improve overall quality of venues, suppliers and events, which will mean better ROI for exhibitors and visitors.
How does venueScout truly set itself apart from other companies providing similar services? 
In several ways: quality and completeness of content, new functionalities like ratings and automatic RFPs and by the state-of-the-art software, which ensures an extremely user-friendly experience.
What makes venueScout so unique when it comes to using technology to push the boundaries of innovation for event professionals? 
We have studied many platforms in other industries which work very well, like Booking.com, Airbnb and TripAdvisor, and have taken the best concepts from them and adjusted to the specific needs of the events industry.
What did you enjoy most at the official launch of venueScout? 
[The launch took place] during the UFI Global Congress in Oman the week of Nov. 14. We had a booth and gave many demonstrations there. It was like going back to my old roots—when I worked as an exhibitor for the Netherland's Chambers of Commerce!
What are some of your biggest plans for venueScout in 2023 and beyond? 
First, we want to optimize the current functionalities of the platform. Going forward the system will provide us with a lot of data and intelligence. Based on this information, we can decide what kind of new functionalities and services we can add in the future to further deliver better search and user experiences.
What are your predictions for the evolution of the events industry in a post-pandemic world? 
I believe that local/regional events will become more important at a cost to the large global events, due to less international business travel (costs, sustainability, restrictions) still in place for some regions. Leading shows in the U.S., Europe and Asia, of which we see several examples already, will likely be the future instead of truly global events.
Don't miss any event-related news: Sign up for our weekly e-newsletter HERE, listen to our latest podcast HERE and engage with us on Twitter, Facebook, LinkedIn and Instagram!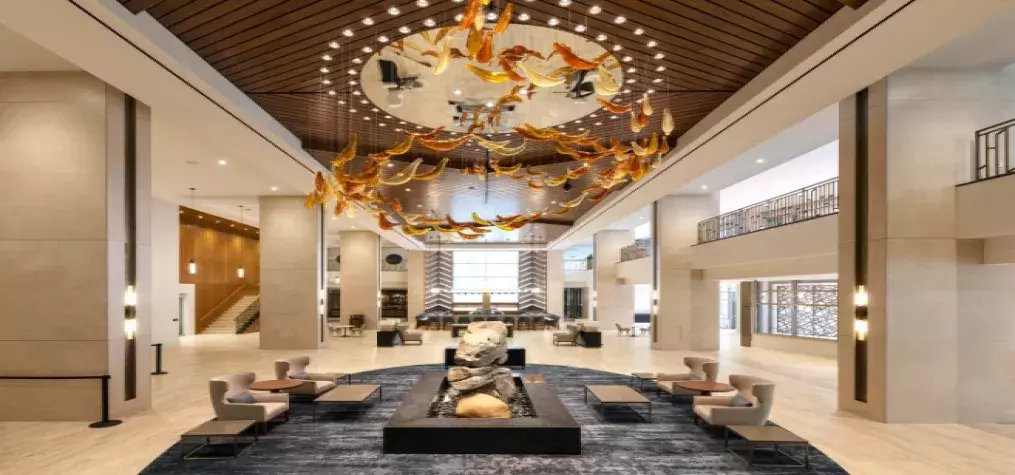 Located in beautiful North Carolina, Harrah's Cherokee is the perfect mountain getaway with breathtaking views of the Great Smoky Mountains and new additions to its resort and conference spaces sure to elevate any meetings or event. Completed in 2021, Harrah's Cherokee's latest $330 million expansion project introduced an entirely new fourth hotel tower, The Cherokee, as well as an additional 83,000 square feet of meeting space with the Cherokee Convention Center. The Cherokee tower brings with it 725 rooms and 70 luxurious suites spread out over 19 floors for a grand total of 1,800 rooms across the entire resort. The new rooms feature a sleek design with an earth-toned color palette and modern amenities. In addition to the new rooms, the expansion also brought with it a luxurious new lobby and lobby bar, a fitness center, a coffee & pastry bar, and a second pool. Conventions, trade shows, banquets, receptions, and even the smallest, most intimate gatherings can find the perfect arrangement at Harrah's Cherokee with its 130,000 square feet of flexible meeting space – including the Cherokee Convention Center. The resort offers a myriad of different spaces and configuration options for events, but the largest spaces include the following: 32,000-sq-ft Cherokee Convention Center ballroom with 22 meeting spaces 11,100-sq-ft Cherokee Convention Center ballroom pre-function space 33,000-sq-ft Cherokee Exhibit Hall 6,000-sq-ft Cherokee Exhibit Hall Pre-Function 13,801-sq-ft Council Fire Ballroom able to be reconfigured into as many as four ballrooms from 3,100 to 3,529-sq-ft each 16,815-sq-ft Event Center able to be configured in six different ways to accommodate 100 to 1,500 guests and offers four VIP suites, box seating, and more than 1,100 balcony seats. In addition to the new accommodations and meeting space, Harrah's Cherokee has also opened several new restaurants as part of the expansion including Guy Fieri's Cherokee Kitchen + Bar which includes the chef's award-winning burgers and barbeque on the menu. Another celebrity chef has also made their mark on the resort with the opening of Gordon Ramsay Food Market which features eight dining concepts ranging from sushi to New York-style deli sandwiches and classic fine-dining fare. Longtime Asheville favorite, Wicked Weed Brewing Pub has also debuted a new location next to Harrah's Cherokee Event Center creating the perfect after-event center with its bright and bold design, over thirty different beers, and live music on weekends. An easy drive from many of the largest cities in the Southeast, Harrah's Cherokee provides the perfect blend of majestic mountainscapes, luxurious new accommodations, and authentic Native American culture.