CES Rebounds With Strong Numbers, Delivers Largest Global Tech Event
January 12, 2023
The 2023 edition of the world's most influential tech event, the Consumer Electronics Show (CES), which took place in Las Vegas Jan. 5-8, exceeded its own expectations and returned to six-digit attendance for the first time since the pandemic.
Spanning nearly 2.2 million net square feet of exhibit space (1.4 million in 2022), CES featured 3,200 exhibitors (2,300 in 2022), including 1,000 new exhibitors, and welcomed 115,000 attendees (45,000 in 2022), making it the largest audited global tech event since early 2020. With 40,000 international attendees heralding from 140 countries, it also set a new record for international attendance.
Owned and operated by the Consumer Technology Association (CTA), the show took over 11 official venues in Las Vegas, including the Las Vegas Convention Center, The Venetian Convention and Expo Center and ARIA.
"CES 2023 was the great reconnection," said Gary Shapiro, president and CEO, CTA. "We've learned from the pandemic how essential human contact and the experience of being together are critical to innovation, to running a business. The fact is, our show and other successful shows have proven that trade shows are absolutely essential to building relationships, doing business, innovating more quickly and conveying the corporate culture in a way that helps you bond." 
Health and safety continued to be top of mind for the organizers. The show introduced a touchless venue experience, with widened aisles, increased fresh air flow and filtration systems, hand sanitizing stations, door greeters and touchless public facilities at all CES venues. 
Travelers arriving between Jan. 1-4 from China, Hong Kong and Macao, which recently reopened its borders, were required to present a negative COVID test to pick up their badge (testing was also provided on-site), but after Jan. 5, that requirement was lifted. 
Future on the Show Floor
For the first time, the show had a central theme: "Human Security for All," in partnership with the United Nations Trust Fund for Human Security, with the idea of harnessing global innovation and collaboration to address the world's biggest challenges, including food shortages, access to healthcare and personal safety. 
In reference to this, Shapiro said, "The innovation unveiled this week will drive economic growth and change in meaningful ways to improve our lives and create a better future for the next generation."
The thrill of discovery and the energy of connection could be felt everywhere. With nearly 300 exhibitors, the show's automotive sector was the largest to date, featuring self-driving tech, personal mobility devices for land and sea, and in-car experiences designed to make your car your best friend. It was hard not to be amazed by BMW i Vision Dee, a concept electric vehicle with adaptive AI that had conversations with attendees, changed colors depending on their mood and offered "a ride of your life." 
First-time attendee Bart Lowyck, a partner at technology company IMEC, made a trek from Belgium to explore automotive innovations but found himself taking a selfie with the 100-ton Caterpillar truck. 
"Big machines make a big impression," he said, adding that he was also "blown away" by the company's autonomous excavators and construction vehicles. A first-time attendee, Lowyck didn't have any hesitation with traveling and thought it was worth the investment but wished there was a more efficient way to connect with the right people for deeper technical conversations.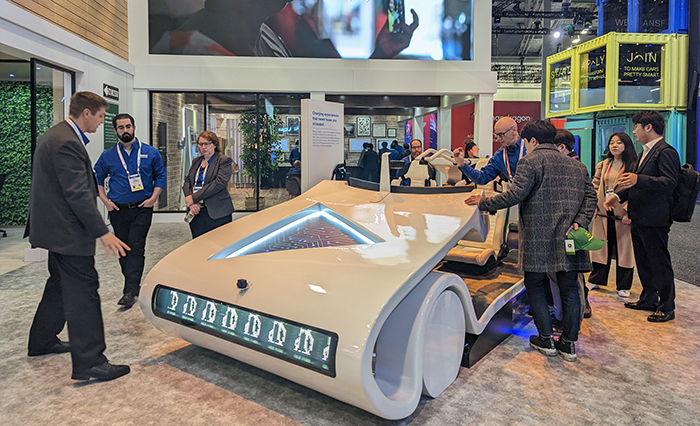 Building on the explosive interest in the sector, the show introduced the Web3 and Metaverse area with technology and hardware for the digital worlds, a show section that stayed busy until the final hours of the show. The line to experience augmented reality solutions on the Magic Leap platform was over an hour long. 
"We've given over 300 demos a day," said Jonathan Martin, director of professional services for Magic Leap. "A lot of people recognize the value of AR and VR, and I think we're at an inflection point where we're going to start seeing scaled adoption in the real world, [including] healthcare, defense and enterprise applications. People will be using these technologies every day to do their work."
Good for Trade Show Business 
Trade show industry stakeholders were excited to bring their clients back to the show floor and spotlight next-level work. 
"Businesses are thrilled to be back together at in-person events, and the tech world gathering this week at CES is a great example of the power of a community coming together to share innovations and network," said Adam Charles, executive vice president, agency and professional services, for Freeman, the show's general contractor. "As trade shows roared back post-pandemic, the power of the in-person experience was evident throughout CES. And new uses of event tech were, too." 
Brand experience agency MC2 had multiple clients on the CES show floor.
"From the moment you walked off the plane to the show floor, it was everything we missed that only CES is able to offer," said Bruno Silva, marketing director for MC2. "CES 2023 showed us that live, in-person events are and will continue to be a necessity in the event space. The show's energy and engagement couldn't be escaped." 
Don't miss any event-related news: Sign up for our weekly e-newsletter HERE, listen to our latest podcast HERE and engage with us on Twitter, Facebook, LinkedIn and Instagram!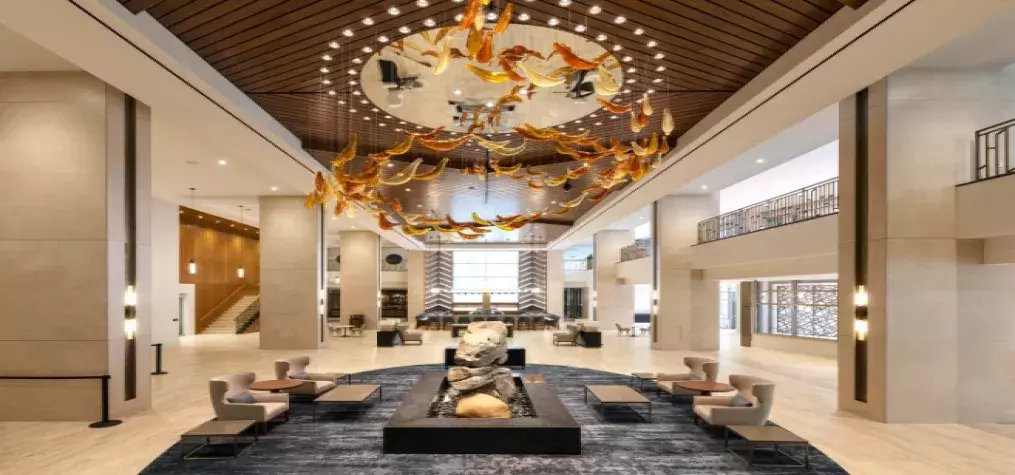 Located in beautiful North Carolina, Harrah's Cherokee is the perfect mountain getaway with breathtaking views of the Great Smoky Mountains and new additions to its resort and conference spaces sure to elevate any meetings or event. Completed in 2021, Harrah's Cherokee's latest $330 million expansion project introduced an entirely new fourth hotel tower, The Cherokee, as well as an additional 83,000 square feet of meeting space with the Cherokee Convention Center. The Cherokee tower brings with it 725 rooms and 70 luxurious suites spread out over 19 floors for a grand total of 1,800 rooms across the entire resort. The new rooms feature a sleek design with an earth-toned color palette and modern amenities. In addition to the new rooms, the expansion also brought with it a luxurious new lobby and lobby bar, a fitness center, a coffee & pastry bar, and a second pool. Conventions, trade shows, banquets, receptions, and even the smallest, most intimate gatherings can find the perfect arrangement at Harrah's Cherokee with its 130,000 square feet of flexible meeting space – including the Cherokee Convention Center. The resort offers a myriad of different spaces and configuration options for events, but the largest spaces include the following: 32,000-sq-ft Cherokee Convention Center ballroom with 22 meeting spaces 11,100-sq-ft Cherokee Convention Center ballroom pre-function space 33,000-sq-ft Cherokee Exhibit Hall 6,000-sq-ft Cherokee Exhibit Hall Pre-Function 13,801-sq-ft Council Fire Ballroom able to be reconfigured into as many as four ballrooms from 3,100 to 3,529-sq-ft each 16,815-sq-ft Event Center able to be configured in six different ways to accommodate 100 to 1,500 guests and offers four VIP suites, box seating, and more than 1,100 balcony seats. In addition to the new accommodations and meeting space, Harrah's Cherokee has also opened several new restaurants as part of the expansion including Guy Fieri's Cherokee Kitchen + Bar which includes the chef's award-winning burgers and barbeque on the menu. Another celebrity chef has also made their mark on the resort with the opening of Gordon Ramsay Food Market which features eight dining concepts ranging from sushi to New York-style deli sandwiches and classic fine-dining fare. Longtime Asheville favorite, Wicked Weed Brewing Pub has also debuted a new location next to Harrah's Cherokee Event Center creating the perfect after-event center with its bright and bold design, over thirty different beers, and live music on weekends. An easy drive from many of the largest cities in the Southeast, Harrah's Cherokee provides the perfect blend of majestic mountainscapes, luxurious new accommodations, and authentic Native American culture.