Exhibitions & Conferences Alliance Kicks Off New Year With Public Policy Agenda; Announces 2023 Legislative Action Day
January 17, 2023
Following the swearing-in of the new Congress on Jan. 3, the Exhibitions & Conferences Alliance (ECA) announced its public policy priorities for 2023, reflected upon its advocacy accomplishments over its first two years and encouraged industry professionals to join its annual Legislative Action Day, which is returning to an in-person format this year in Washington, DC.
Founded in early 2021, ECA is an advocacy group for the face-to-face business events industry, designed to champion and support its recovery and advancement with legislators on Capitol Hill and in states and cities nationwide. 
2023 Public Policy Agenda
For 2023, ECA's ten alliance partner organizations have identified four key areas of focus for ECA. They include ensuring a favorable operating environment for the industry going forward;
fully welcoming international exhibitors and attendees back to the U.S.; supporting industry efforts to address sustainability and climate change; and promoting government involvement in developing the industry's future workforce
"As the unified advocacy voice of the face-to-face business events industry, ECA's 2023 public policy priorities serve as our industry's North Star as we continue to engage with policymakers to help drive economic growth, support job creation and empower small businesses from coast to coast," said Hervé Sedky, president and CEO of Emerald and chair of the ECA board of directors.
As part of the organization's public policy priorities for the coming year, the ECA board of directors further identified five top issues for 2023, as follows: 
Prevent anti-growth state-level taxation of the industry;

Bring back communicable disease coverage to event cancelation insurance;

Restore visa operations to pre-pandemic levels while making visa processing more modern and efficient;

Encourage smart decarbonization efforts by governments while ensuring the right balance between environmental aims and industry feasibility;

Support government policy and programs to attract, train and retain the industry's next-generation workforce.
According to Vinnie Polito, CEO of the Society of Independent Show Organizers (SISO) and co-president of ECA, the organization will be actively engaged on the issues that matter to the events industry in 2023. 
"From working on the restoration of visa processing at U.S. embassies and consulates around the world to fighting back against efforts to introduce growth-stifling taxes on our industry, ECA will be front and center to champion our interests with elected and appointed officials in Washington, DC and beyond," Polito said.
This year, ECA will also focus on building upon its advocacy successes over the last two years, with efforts to include: 
Leading campaigns in 2021 to reopen states and cities for large-scale face-to-face events;

Working to eliminate country-and-region-specific travel bans and lift pre-departure testing requirements for vaccinated inbound international travelers to the U.S.;

Supporting federal relief programs that delivered more than $800 million to industry small business and other stakeholders;

Securing the introduction of legislation that would provide relief for our industry's small businesses and help restore communicable disease coverage to event cancellation insurance;

Launching ECA Legislative Action Day and ECA Small Business Advocacy Week.
 To learn more about ECA's 2023 public policy priorities, go here.
Legislative Action Day Returns to In-Person
According to Tommy Goodwin, vice president of government affairs for ECA, event professionals interested in taking a more active role in advocating for the meetings and exhibitions industry can join ECA's annual Legislative Action Day, set to take place in person on June 1 in Washington, DC.  
The 2023 event will bring advocates and leaders from across the face-to-face business events industry to Capitol Hill to meet with their members of Congress about the ECA's federal policy priorities and the vital role that the industry plays in helping to spur economic growth, support job creation and empower small businesses across the U.S., he said.
"Advocacy is central to the growth and advancement of the face-to-face business events industry going forward," Goodwin explained. "That's why it's so important for everyone across our industry to get involved. From inviting policymakers to visit your shows to coming to Washington, DC to taking part in Legislative Action Day, together we can be the voice of our industry on Capitol Hill and in states and cities nationwide." 
Additionally, the 2023 ECA Legislative Action Day will be held in conjunction with the Lippman Connects Exhibition and Convention Executives Forum (ECEF), a one-day information-sharing and networking event for leaders at associations and independent organizers taking place May 31 at the Grand Hyatt in Washington, DC. In recognition of this partnership, ECA announced Lippman Connects as one of its 2023 Legislative Action Day platinum sponsors.  
"It is imperative for our industry to be heard on Capitol Hill, and ECEF pledges to do all it can to support ECA in this all-important initiative," said Sam Lippman, Lippman Connects president and producer of ECEF. 
Additional 2023 Legislative Action Day details and logistical information will be forthcoming, according to ECA officials. In the meantime, ECA encourages all industry leaders and advocates to make plans to be in Washington, DC on June 1 as the industry comes together to make its collective voice heard on Capitol Hill. 
"Since its founding, ECA has worked tirelessly to support the industry on its road to recovery," said David DuBois, president and CEO of the International Association of Exhibitions and Events (IAEE) and ECA co-president. "In 2023, we look forward to amplifying the voice of our industry's many passionate advocates in the policymaking process, including at ECA Legislative Action Day." 
Don't miss any event-related news: Sign up for our weekly e-newsletter HERE, listen to our latest podcast HERE and engage with us on Twitter, Facebook, LinkedIn and Instagram!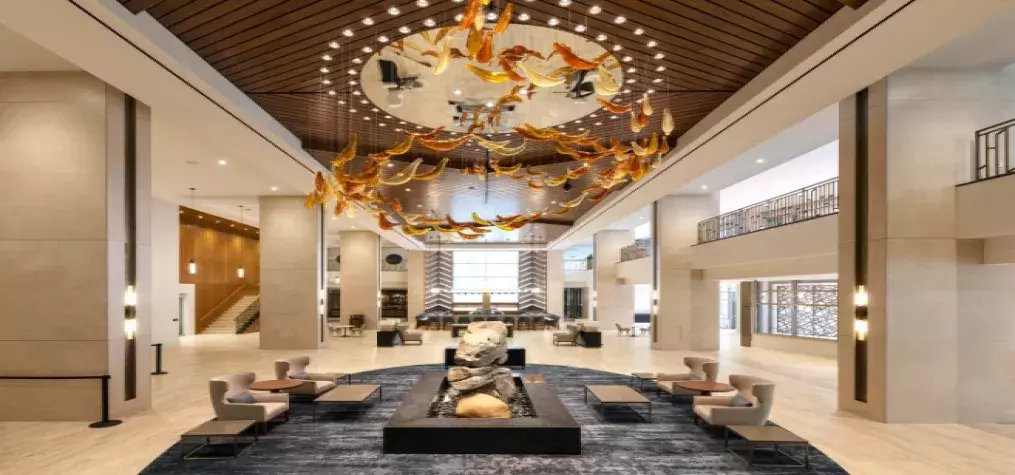 Located in beautiful North Carolina, Harrah's Cherokee is the perfect mountain getaway with breathtaking views of the Great Smoky Mountains and new additions to its resort and conference spaces sure to elevate any meetings or event. Completed in 2021, Harrah's Cherokee's latest $330 million expansion project introduced an entirely new fourth hotel tower, The Cherokee, as well as an additional 83,000 square feet of meeting space with the Cherokee Convention Center. The Cherokee tower brings with it 725 rooms and 70 luxurious suites spread out over 19 floors for a grand total of 1,800 rooms across the entire resort. The new rooms feature a sleek design with an earth-toned color palette and modern amenities. In addition to the new rooms, the expansion also brought with it a luxurious new lobby and lobby bar, a fitness center, a coffee & pastry bar, and a second pool. Conventions, trade shows, banquets, receptions, and even the smallest, most intimate gatherings can find the perfect arrangement at Harrah's Cherokee with its 130,000 square feet of flexible meeting space – including the Cherokee Convention Center. The resort offers a myriad of different spaces and configuration options for events, but the largest spaces include the following: 32,000-sq-ft Cherokee Convention Center ballroom with 22 meeting spaces 11,100-sq-ft Cherokee Convention Center ballroom pre-function space 33,000-sq-ft Cherokee Exhibit Hall 6,000-sq-ft Cherokee Exhibit Hall Pre-Function 13,801-sq-ft Council Fire Ballroom able to be reconfigured into as many as four ballrooms from 3,100 to 3,529-sq-ft each 16,815-sq-ft Event Center able to be configured in six different ways to accommodate 100 to 1,500 guests and offers four VIP suites, box seating, and more than 1,100 balcony seats. In addition to the new accommodations and meeting space, Harrah's Cherokee has also opened several new restaurants as part of the expansion including Guy Fieri's Cherokee Kitchen + Bar which includes the chef's award-winning burgers and barbeque on the menu. Another celebrity chef has also made their mark on the resort with the opening of Gordon Ramsay Food Market which features eight dining concepts ranging from sushi to New York-style deli sandwiches and classic fine-dining fare. Longtime Asheville favorite, Wicked Weed Brewing Pub has also debuted a new location next to Harrah's Cherokee Event Center creating the perfect after-event center with its bright and bold design, over thirty different beers, and live music on weekends. An easy drive from many of the largest cities in the Southeast, Harrah's Cherokee provides the perfect blend of majestic mountainscapes, luxurious new accommodations, and authentic Native American culture.