Hubilo's Successful MIX 2022 Show Demonstrates How to Deliver Next-Level Hybrid Events
April 14, 2022
Leading event tech company Hubilo recently united 1,000-plus attendees for MIX 2022 (Mastering Immersive Events), its first-ever global hybrid gathering, which spanned three continents and 25 time zones.
The two-day event, which took place March 30-31 virtually and in-person, with live events in San Francisco, New York, London and Bangalore, was designed to show event professionals how to create immersive hybrid events at scale, exploring what's possible in driving engagement globally and achieving desired marketing results in the digital event era.
Events are evolving to become the epicenter of marketing strategies, with brand interest, loyalty, leads and revenue being the objectives, according to Vaibhav Jain, CEO of Hubilo.
"Engaging audiences and the valuable data that results from their interaction at Hubilo events drives the demand that our clients say meets their goals," he told the MIX 22 audience. "ROI can be achieved by combining next-level experiences with careful nurturing of the audience post-event. This is the future of audience and community building around brands."
Jain added that the data available to marketers and event professionals as a result of offering virtual and hybrid events adds ongoing value, and engagement and networking play a huge part.
During MIX 2022, more than 1,600 messages were exchanged, 18% of attendees engaged in lounge conversations and all partner and sponsor booths had more than 100 visits each.
For Hubilo's clients' events, this data lets them effectively market to attendees and leads after the last person has logged off. Hubilo's platform tracks attendance, areas explored by attendees, speaker ratings, engagement, profile views, bookmarks and most active feeds. Keeping an eye on these metrics in real-time allows planners to pivot or offer support to users and exhibitors.
MIX 2022 featured content focused on event trends, community building, hot topics and what's propelling the industry forward, with highlights including special guest speaker Mindy Kaling, writer, director and actor in hit TV series such as "The Office" and "The Mindy Project," who shared her experiences overcoming adversity to become a creative powerhouse.
Other standout sessions covered topics such as transforming events into experiences, personalizing events to boost attendance and engagement, creating immersive marketing experiences, the future of events, bringing compelling storytelling into event design, event professionals and mental health, building an equitable world, and how to prepare for the metaverse. A wellness component was also featured, with guided movement and meditation breaks.
The programming spotlighted numerous industry experts, including Vaibhav Jain, Cathy Song Novelli and Sophie Ahmed of Hubilo, RD Whitney of 365 Media and Community Leaders Institute, Chris Lee of Informa Markets, Liz Caruso of TechsyTalk, Brianna Elenes of Freeman and Miguel Neves of Event MB, among many others.  
Each session at MIX was accompanied by features that created a new way for diverse audiences to access events, from a sign language translator to event chats and more intimate lounges and one-on-one networking opportunities. From contests and a live event chat to browsing sponsor and exhibitor booths, MIX 2022 audiences were treated to the vast possibilities of hybrid and virtual events.
For more information or to watch MIX 2022 sessions on demand, go here.
Don't miss any event-related news: Sign up for our weekly e-newsletter HERE and engage with us on Twitter, Facebook and  LinkedIn!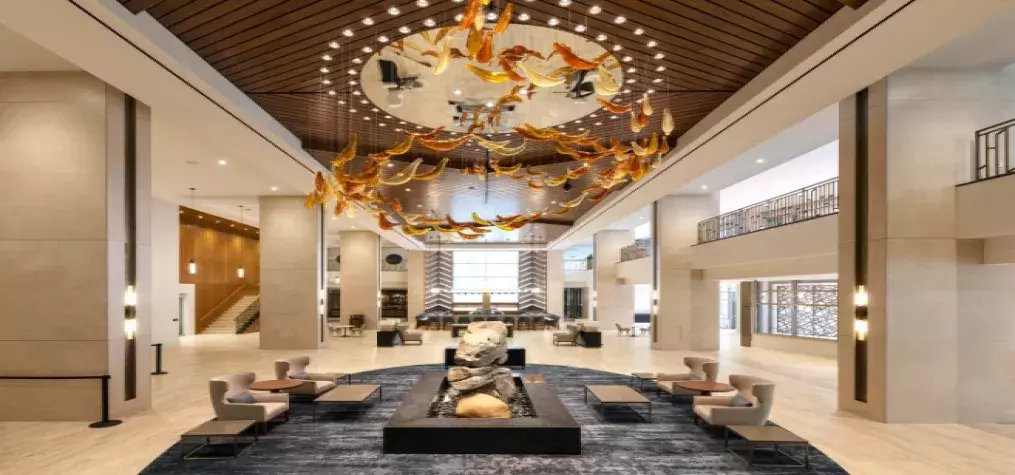 Located in beautiful North Carolina, Harrah's Cherokee is the perfect mountain getaway with breathtaking views of the Great Smoky Mountains and new additions to its resort and conference spaces sure to elevate any meetings or event. Completed in 2021, Harrah's Cherokee's latest $330 million expansion project introduced an entirely new fourth hotel tower, The Cherokee, as well as an additional 83,000 square feet of meeting space with the Cherokee Convention Center. The Cherokee tower brings with it 725 rooms and 70 luxurious suites spread out over 19 floors for a grand total of 1,800 rooms across the entire resort. The new rooms feature a sleek design with an earth-toned color palette and modern amenities. In addition to the new rooms, the expansion also brought with it a luxurious new lobby and lobby bar, a fitness center, a coffee & pastry bar, and a second pool. Conventions, trade shows, banquets, receptions, and even the smallest, most intimate gatherings can find the perfect arrangement at Harrah's Cherokee with its 130,000 square feet of flexible meeting space – including the Cherokee Convention Center. The resort offers a myriad of different spaces and configuration options for events, but the largest spaces include the following: 32,000-sq-ft Cherokee Convention Center ballroom with 22 meeting spaces 11,100-sq-ft Cherokee Convention Center ballroom pre-function space 33,000-sq-ft Cherokee Exhibit Hall 6,000-sq-ft Cherokee Exhibit Hall Pre-Function 13,801-sq-ft Council Fire Ballroom able to be reconfigured into as many as four ballrooms from 3,100 to 3,529-sq-ft each 16,815-sq-ft Event Center able to be configured in six different ways to accommodate 100 to 1,500 guests and offers four VIP suites, box seating, and more than 1,100 balcony seats. In addition to the new accommodations and meeting space, Harrah's Cherokee has also opened several new restaurants as part of the expansion including Guy Fieri's Cherokee Kitchen + Bar which includes the chef's award-winning burgers and barbeque on the menu. Another celebrity chef has also made their mark on the resort with the opening of Gordon Ramsay Food Market which features eight dining concepts ranging from sushi to New York-style deli sandwiches and classic fine-dining fare. Longtime Asheville favorite, Wicked Weed Brewing Pub has also debuted a new location next to Harrah's Cherokee Event Center creating the perfect after-event center with its bright and bold design, over thirty different beers, and live music on weekends. An easy drive from many of the largest cities in the Southeast, Harrah's Cherokee provides the perfect blend of majestic mountainscapes, luxurious new accommodations, and authentic Native American culture.