MPI Foundation Dedicates Funds to Assist Ukrainian Hospitality Students, Calls for Industry Support 
April 18, 2022
As the non-profit fundraising arm of Meeting Professionals International (MPI), the largest global meetings and event industry association, the MPI Foundation (MPIF) serves an important purpose: to fund grants, scholarships and pan-industry research in support of the global meeting and event industry. But when the increasing humanitarian crisis resulting from Russia's invasion of Ukraine began to take shape, the MPIF joined many event industry organizations in seeking an appropriate means to provide aid during the crisis.
According to MPI officials, since its joint board meeting on March 1, the MPIF has been considering opportunities to provide direct support to the meetings and events industry—specifically to Ukrainian hospitality students studying in Poland who have been affected by the war. On that same day, the organization also released a statement condemning Russia's acts of aggression against Ukraine and its intentions to suspend all business activities in Russia.
The opportunity to support the Ukrainian students was presented to the MPIF by Global Board of Trustees member Dr. Krzysztof Celuch, a Warsaw, Poland-based event experiences professor who has been actively making sure students have the essentials for day-to-day living within their community. He helped facilitate a collaboration with Monika Dymacz, chapter president of MPI Poland, which would become a critical channel for facilitating relief efforts, with Celuch and Dymacz acting as intermediaries. (While MPI has 11 chapters and clubs throughout Europe, it does not yet have a chapter in Ukraine.)  
According to MPI officials, while dozens of international agencies have been successfully supporting accommodations and logistics, most of these Ukrainian students will not be able to remain enrolled due to a lack of financial support and fear of a limited future. It was this specific challenge where the MPI Poland chapter and the MPIF saw a means to support the next generation of event professionals in a time when they need it most. 
"We have been solely focused on being able to add support where there is none," said Kevin Kirby, MPIF executive director. "While other industry associations graciously offered funds towards overarching relief efforts, we have sought to engage efforts that mirror the foundation's purpose." 
MPI Poland applied for a grant, and the MPI Foundation Global Board of Trustees then directed USD $10,000 to support the educational costs of Ukrainian students in their final year at Vistula University's School of Hospitality in Warsaw. According to Kirby, there are currently more than 120 Ukrainian hospitality students at the university, a number that continues to grow as refugees cross the border into Poland daily. 
"With humanitarian aid covering essentials, we are seeking to ensure our pipeline of future talent remains in our industry and can complete their university studies," said Dr. Celuch, who is also on faculty at Vistula University and an MPI Foundation Trustee. 
To inspire more support for this important effort, MPI held a fundraising campaign during the recent Global Meetings Industry Day broadcast on April 7, offering to match an additional $10,000 donated by members of the industry through April 27. According to Kirby, more than 300 individuals representing organizations large and small chipped in from across the globe.
"It was such an organic and inspiring effort," Kirby said. "Donations ranged from $5 to $1,000. As of April 13, we're thrilled to share that we will exceed our combined goal of $30,000!"
He added, "While we still have two weeks until the campaign ends, we are very proud of all of those who chose to support these students—and it's not too late because we can still help others!" 
MPIF continues to support efforts to highlight the crisis, according to Kirby, such as a live 90-minute session (in English) that the Lviv Convention Bureau will host on April 19 with additional regional updates. 
"You can check the [Lviv Convention Bureau] social media channels for ways to connect," he said.
Kirby added that so far, 60 Ukrainian students are receiving financial assistance, as well as complimentary MPI membership to give them access to industry resources and a welcoming, supportive community. That number of beneficiaries can still grow as the industry continues to lend more support to the effort, he emphasized.
To help enable more Ukrainian hospitality students to continue their education and realize their career aspirations in the meetings and events industry, please consider donating here through April 27!
Don't miss any event-related news: Sign up for our weekly e-newsletter HERE and engage with us on Twitter, Facebook, LinkedIn and Instagram!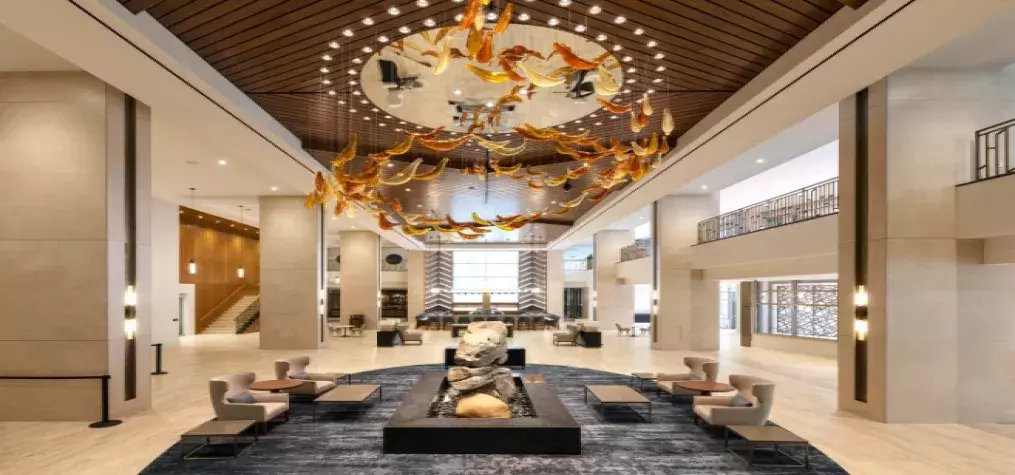 Located in beautiful North Carolina, Harrah's Cherokee is the perfect mountain getaway with breathtaking views of the Great Smoky Mountains and new additions to its resort and conference spaces sure to elevate any meetings or event. Completed in 2021, Harrah's Cherokee's latest $330 million expansion project introduced an entirely new fourth hotel tower, The Cherokee, as well as an additional 83,000 square feet of meeting space with the Cherokee Convention Center. The Cherokee tower brings with it 725 rooms and 70 luxurious suites spread out over 19 floors for a grand total of 1,800 rooms across the entire resort. The new rooms feature a sleek design with an earth-toned color palette and modern amenities. In addition to the new rooms, the expansion also brought with it a luxurious new lobby and lobby bar, a fitness center, a coffee & pastry bar, and a second pool. Conventions, trade shows, banquets, receptions, and even the smallest, most intimate gatherings can find the perfect arrangement at Harrah's Cherokee with its 130,000 square feet of flexible meeting space – including the Cherokee Convention Center. The resort offers a myriad of different spaces and configuration options for events, but the largest spaces include the following: 32,000-sq-ft Cherokee Convention Center ballroom with 22 meeting spaces 11,100-sq-ft Cherokee Convention Center ballroom pre-function space 33,000-sq-ft Cherokee Exhibit Hall 6,000-sq-ft Cherokee Exhibit Hall Pre-Function 13,801-sq-ft Council Fire Ballroom able to be reconfigured into as many as four ballrooms from 3,100 to 3,529-sq-ft each 16,815-sq-ft Event Center able to be configured in six different ways to accommodate 100 to 1,500 guests and offers four VIP suites, box seating, and more than 1,100 balcony seats. In addition to the new accommodations and meeting space, Harrah's Cherokee has also opened several new restaurants as part of the expansion including Guy Fieri's Cherokee Kitchen + Bar which includes the chef's award-winning burgers and barbeque on the menu. Another celebrity chef has also made their mark on the resort with the opening of Gordon Ramsay Food Market which features eight dining concepts ranging from sushi to New York-style deli sandwiches and classic fine-dining fare. Longtime Asheville favorite, Wicked Weed Brewing Pub has also debuted a new location next to Harrah's Cherokee Event Center creating the perfect after-event center with its bright and bold design, over thirty different beers, and live music on weekends. An easy drive from many of the largest cities in the Southeast, Harrah's Cherokee provides the perfect blend of majestic mountainscapes, luxurious new accommodations, and authentic Native American culture.