SISO CEO Summit 2022 Draws Hundreds of Industry Execs for Impactful Agenda
April 7, 2022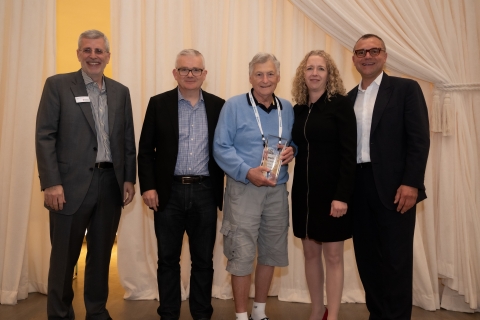 The Society of Independent Show Organizers (SISO) CEO Summit, the most important annual networking and information-sharing event for show organizers, took place in person last month for the first time in two years, bringing hundreds of eager attendees together for an experience punctuated by exceptional content and optimism for the industry's continued recovery and evolution.
More than 300 independent show organizers and C-level executives from sponsoring companies gathered for the three-day event, held March 21-24 at The Vinoy Renaissance Resort and Golf Club in St. Petersburg, Fla.
"After the last two years, you could tell that everyone was extremely happy to be back together in person," said SISO CEO David Audrain. "The SISO CEO Summit is the largest and most recognized annual gathering of the leaders in our industry, and this week, it was most definitely back to business for us all!"
CEOs from all major independent organizers were in attendance, including Informa Markets CEO Charlie McCurdy, RX Global CEO Hugh Jones, Emerald CEO and President Hervé Sedky, Tarsus Group CEO Doug Emslie, Clarion Events CEO Russell Wilcox and Diversified Communications CEO Ted Wirth.
"It has been a true honor to serve with such a talented group of professionals as we have worked together over the past year to address the many challenges facing the exhibit and trade show industry," said Sedky, outgoing chair of the SISO Board of Directors. "This effort is a testament to the resiliency of our collective strength, as we have not only returned to safely staging successful in-person events during the ongoing pandemic but have also helped SISO to serve as an incubator of thought-provoking discussions focused on greater sustainability initiatives, advocacy support and diversity and inclusion for our association, community and industry."
New Chair, Continued Progress
Sedkey handed the reins to SISO's incoming chair, Cassandra Farrington, president of Anne Holland Ventures and co-founder, strategic advisor and board chair emeritus of MJBiz, which was sold to Emerald in January.
Farrington grew MJBiz, serving the business side of the cannabis and hemp industries, into one of the most successful privately held companies in the U.S., consisting of several publishing entities and MJBizCon, the fastest-growing convention in the U.S. since 2012.
One of Farrington's top priorities as the new chair of SISO will be making sure the beneficial initiatives that have been established through SISO's guidance continue long into the industry's post-pandemic future.
"Our industry has come through a rough couple of years," Farrington said. "SISO has been a key player in the community-building and the advocacy work that has been instrumental to pulling us all through COVID."
Farrington added that she represents a different side of SISO than the individuals who are typically in the chair role, coming from a small-business entrepreneurial mindset and being a female leader in the industry.
"These cohorts are a critical part of the ecosystem of our industry, fueling growth and innovation each in their own ways," she said. "As the chair, I'm excited to represent and advocate for what these groups need within the broader SISO community to ensure they can continue to thrive and fulfill their important roles to keep the organization strong."
In addition to navigating the receding pandemic, Farrington plans to help the industry tackle the new shared challenges created by the instability in the geopolitical environment.
"I look forward to working with the SISO community to approach these challenges collectively, thereby giving all our members the benefit of the best ideas and cohesive solutions," she said.
Meanwhile, numerous leaders on the sponsor side attended the summit, including Las Vegas Convention Visitors Authority VP of Business Sales John Schreiber, ASM Global EVP of Convention Centers Bob McClintock, New York Convention Center Operating Corporation President and CEO Alan Steel, Freeman President Bob Priest-Heck, Berkery Noyes Investment Bankers Managing Director David Loechner and Orange County Convention Center Executive Director Mark Tester, to name a few.
Impressive Content
Two important half-day forums kicked off the summit: the Small Business Roundtable and the Women's Executive Forum.
The Small Business Roundtable featured programming developed by Small Business Special Interest Group (SIG) Co-Chairs Phil McKay, president and CEO of nGage Events, and Stephanie Everett, COO and partner of ExpoDevCo. The roundtable was jam-packed with content geared toward the key issues impacting small businesses, including ongoing pandemic issues, the road to recovery, staffing and recruiting, virtual and hybrid events and the path to profitable year-round community models and new business development.
The Women's Executive Forum featured programming developed by Women's SIG Chair Rachel Wimberly, EVP of business development, Tarsus Group US.
"I am honored to have been tapped to oversee the Women's SIG for SISO, which includes working with a fantastic group of people to help plan the SISO CEO Summit's Women's Executive Forum," Wimberly said. "This year's focus was on 'managing through a crisis.'"
The Women's Executive Forum featured a keynote, Non-Negotiable Tools for Mental and Emotional Fitness, by Leigh Weinraub, founder of Mind in Motion, followed by a panel, Managing Through a Crisis, featuring females executives from Informa Markets, Diversified Communications and RX. The afternoon was capped off with Wimberley interviewing Farrington about MJBizCon and how she helped it become one of the fastest-growing shows in the U.S. as well as her plans as SISO chair to drive more women into leadership positions in the industry.  
During the rest of the summit, other programming covered a wide range of topics, including the new normal for events, the future course of the pandemic, using data to grow audience and community, and the state of mergers and acquisitions.
Krakoff Award
During the summit, Tarsus Group's Emslie presented SISO's Robert L. Krakoff Industry Award of Excellence to Lew Shomer, chairman, 5Net4 Productions. Shomer was executive director of SISO from 2009 to 2015 and chairman of SISO in 2004 and served on the SISO Board of Directors for nine years. His firm produces the Abilities Expo, a consumer show that brings ability-enhancing products and services to the community of people with disabilities. The expo is held annually in seven major U.S. cities.
The award is named in honor of industry legend Robert L. Krakoff, who built and ran some of the most successful businesses in the exhibition industry.
"The Robert L. Krakoff award is the most prestigious award for for-profit organizers," Emslie said. "It's for an outstanding individual who has shown leadership and innovation and who has made a major contribution to our industry. Lew Shomer has not only done this in building his own business but also in the way he relentlessly rebuilt SISO to what it is today."
"SISO changed the direction of my career, but the people I have met through SISO have become my closest friends, and in our industry it's the most important aspect of doing business," Shomer said upon receiving the award. "Thanks to the board and membership."
Photo (left to right): David Audrain, Doug Emslie, Lew Shomer, Cassandra Farrington, Hervé Sedky 
Don't miss any event-related news: Sign up for our weekly e-newsletter HERE and engage with us on Twitter, Facebook and  LinkedIn!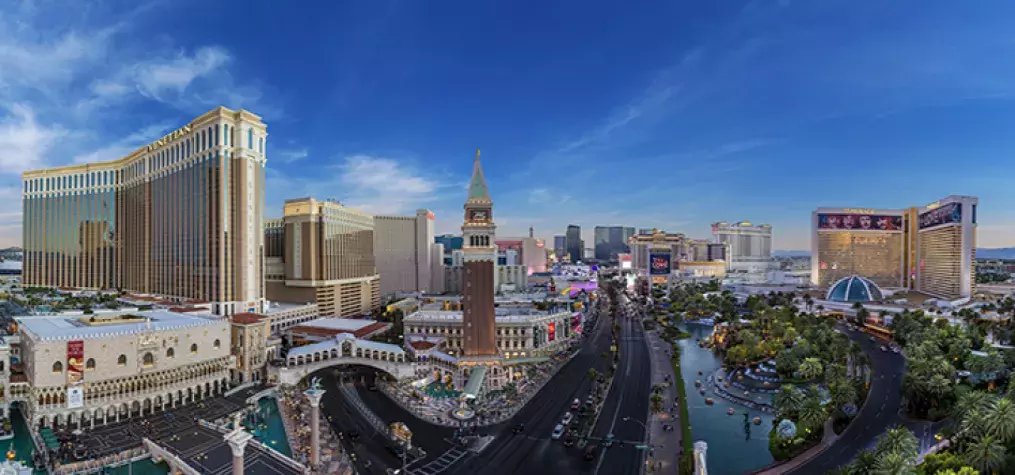 Less than six months ago, Lisa Messina joined the Las Vegas Convention and Visitors Authority (LVCVA) as the first-ever chief sales officer after leading the sales team at Caesars Entertainment. A 12-year Las Vegas resident, Messina is a graduate of Cornell University's School of Hotel Administration and serves on MPI International's board of directors. TSNN had a chance to catch up with this dynamic leader and talk to her about her vision for the new role, current shifts in the trade show industry, creating more diversity and equity within the organization, and advice to future female leaders. Lisa Messina, Chief Sales Officer, LVCVA With Las Vegas becoming The Greatest Arena on EarthTM, what are some of the things you're most excited about in your role? Our team was at The Big Game's handoff ceremony earlier this month, and I couldn't help but think, "We're going to crush it next year!" These high-profile events and venues not only drive excitement, but also provide unmatched opportunities for event planners. Allegiant Stadium hosts events from 10 to 65,000 people and offers on-field experiences. Formula 1 Grand Prix will take place in Las Vegas in November, after the year-one F1 race, the four-story paddock building will be available for buyouts and will also offer daily ride-along experiences that will be available for groups. And, of course, the MSG Sphere officially announced that it will open in September, ahead of schedule, with a U2 residency. It's going to be the most technologically advanced venue as far as lighting, sound, feel, and even scent, and it will be available for buyouts and next-level sponsorships inside and outside. There's no ceiling to what you can do when you're doing events in Las Vegas. Allegiant Stadium As the trade show and convention business returns to the pre-pandemic levels, what shifts are you noticing and how do you think they will impact the industry going forward? Our trade show organizers are very focused on driving customer experience. Most of our organizers are reporting stronger exhibitor numbers and increased numbers of new exhibitors, with trade shows proving to be almost or above 2019 levels. Now our organizers are really doubling down on driving attendance and focusing on the data to provide that individualized, customized experience to help attendees meet their goals and get the best value. Some companies continue to be cautiously optimistic with their organizational spend when it comes to sending attendees, but I think it will continue to improve. As the U.S. Travel Association makes more progress on the U.S. visa situation, we also expect a growing influx of international attendees. What are some innovative ways the LVCVA helps trade show and convention organizers deliver the most value for their events? We focus on customer experience in the same way that trade show organizers are thinking about it. We got rave reviews with the West Hall Expansion of the Las Vegas Convention Center (LVCC), so over the next two years, we will be renovating the North and the Central halls, which will include not just the same look and feel, but also the digital experiences that can be leveraged for branding and sponsorship opportunities. Vegas Loop, the underground transportation system designed by The Boring Company, is also a way we have enhanced the customer experience. Vegas Loop at the LVCC has transported more than 900,000 convention attendees across the campus since its 2021 launch. Last summer, Resorts World and The Boring Company opened the first resort stop at the Resorts World Las Vegas , with plans to expand throughout the resort corridor, including downtown Las Vegas, Allegiant Stadium and Harry Reid International Airport. The LVCVA also purchased the Las Vegas Monorail in 2020, the 3.9-mile-long elevated transportation system that connects eight resorts directly to the convention center campus. This is the only rail system in the world that integrates fares directly into show badges and registration. For trade show organizers, these transportation options mean saving time, money and effort when it comes to moving groups from the hotels to LVCC and around the city. Also, the more we can focus on building the infrastructure around the convention center, the more it supports the customer experience and ultimately supports our trade show organizers. Scheduled to debut in Q4, Fontainebleau Las Vegas will offer 3,700 hotel rooms and 550,000 square feet of meeting and convention space next to LVCC. What are some of the plans for advancing DEI (diversity, equity and inclusion) within your organization? We're currently partnering with instead of working with a leading consulting firm, to lay the foundation and create a solid DEI plan and be the leader when it comes to DEI initiatives. The heart of that journey with the consulting firm is also talking to our customers about their strategic approaches to DEI and driving innovation in this space. What are your favorite ways to recharge? My husband and I have an RV and we're outdoorsy people. So, while we have over 150,000 world-class hotel rooms and renowned restaurants right outside our doorstep, one of my favorite things to do is get out to Red Rock Canyon, the Valley of Fire, and Lake Mead. Five of the top national parks are within a three-hour drive from Las Vegas, so there's a lot you can do. We love balancing the energy of Las Vegas with nature, and we're noticing that a lot of attendees add activities off the Strip when they come here. Valley of Fire What advice would you give to women following leadership paths in destination marketing? I think it's about being laser-focused on what you want to accomplish; building a team around you that lifts you and helps you achieve your goals; and being humble and realizing that you do it as a group. No one gets this done alone. Thankfully, there are a lot of women in leadership in this organization, in our customers' organizations, and in this city that we can be really proud of. We're a formidable force that is making things happen. This interview has been edited and condensed. This article is exclusively sponsored by the Las Vegas Convention & Visitors Authority. For more information, visit HERE.