Sodexo Culinary Workers at Las Vegas Convention Center Unanimously Authorize Strike if Necessary
December 12, 2022
The Las Vegas Convention Center (LVCC) has become the second facility following Orlando's Orange County Convention Center (OCCC) where unionized Sodexo food service workers have voted 100% to authorize a strike if a contract is not reached through ongoing negotiations. 
The announcement was made late Friday, Dec. 9 by Culinary Workers Union Local 226, affiliate of UNITE HERE!, following two days of voting by cooks, dishwashers, banquet servers, concessions cashiers and other workers employed by Sodexo and working at the LVCC, claiming that their wages are not enough to keep up with the cost of living.
"I voted to strike because we are the ones that make the convention center successful, and we want to get a fair share of that success," said Dylan Schoenhard, banquet server for Sodexo at the LVCC. "We have been busy at the convention center, with big shows like [the Consumer Electronics Show] CES coming soon, but we need higher pay because everything is so much more expensive now, especially rent and housing, and we don't want to be treated like second-class workers." 
According to Ted Pappageorge, secretary-treasurer for the Culinary Workers Union, convention business is booming again at the LVCC after the COVID-19 pandemic, and Culinary Workers Union members work tirelessly to provide the best service. Additionally, a recent Sodexo report highlighted a "strong increase in revenues and profitability in fiscal 2022."
"The Las Vegas Convention Center generates billions in positive economic impact for Nevada per year, but the [Sodexo] workers who make that possible are getting left behind," Pappageorge said. "[Sodexo] workers at the Las Vegas Convention Center voted to authorize a strike because they deserve first-class jobs."
Paul Pettas, vice president of brand and communications for Sodexo, reaffirmed that the unanimous vote in favor of a strike is not a declaration of a strike and that negotiations are ongoing. 
According to Pettas, Sodexo is confident that these negotiations will not affect CES and the level of service it provides to attendees, exhibitors and all those who are joining the company at the LVCC in the months ahead. CES, set to take place at the LVCC Jan. 5-8, is expected to attract up to 100,000 attendees this year. 
"We are fully committed to reaching a new collective bargaining agreement (CBA) for UNITE HERE! members and doing so before CES in January," Pettas said. "Decades of positive, collaborative union relationships have taught us that progress takes place at the bargaining table with strong engagement from both parties." 
He added that despite Sodexo's continued good faith efforts, UNITE HERE! leadership only provided a proposal on wages and benefits on Nov. 30—three months after the expiration of the previous CBA—and has not yet agreed to any of its proposed bargaining dates in December. 
"We remain fully committed to helping secure long-term vitality for the individuals who have careers with us at the Las Vegas Convention Center and continuing to be economic catalysts for Las Vegas and the Southern Nevada economy," Pettas said.
Meanwhile, in addition to the LVCC and OCCC, UNITE HERE! and local union leaders representing Sodexo food service workers at three other facilities—the Huntington Place in Detroit, the New Orleans Ernest N. Morial Convention Center and the SAFE Credit Union Convention Center in Sacramento, Calif.—called on Sodexo in November to avoid labor disputes and possible strikes, though they stopped short of announcing strike votes. (See TSNN story here.) While disputes for Sodexo workers at each convention center are distinct, key issues include wage increases, affordable health care, secure retirement and fair scheduling.
According to Pettas, Sodexo is working to forge a path forward with its food service workers as it engages in ongoing conversations with union representatives to prevent strikes at the five convention venues and assured event professionals that their events at any of these facilities will go on smoothly as planned in the coming weeks.
Meanwhile, Pettas pointed to Sodexo's newly launched People Ambition program, which is the company's renewed promise to its current and future employees. The initiative includes enhanced compensation, rewards and employee benefits, and will also include bolstered career development opportunities and other employee-centric enhancements. 
"We believe this will help ensure Sodexo continues as the No. 1 hospitality company for employees in the hospitality industry," he said. 
Additionally, Pettas said Sodexo received a perfect score on the 2022 Disability Equality Index (DEI), was named by Forbes as a 2022 Best Employer for Diversity and was acknowledged as a Best Company for Multicultural Women by Seramount.
Don't miss any event-related news: Sign up for our weekly e-newsletter HERE, listen to our latest podcast HERE and engage with us on Twitter, Facebook, LinkedIn and Instagram!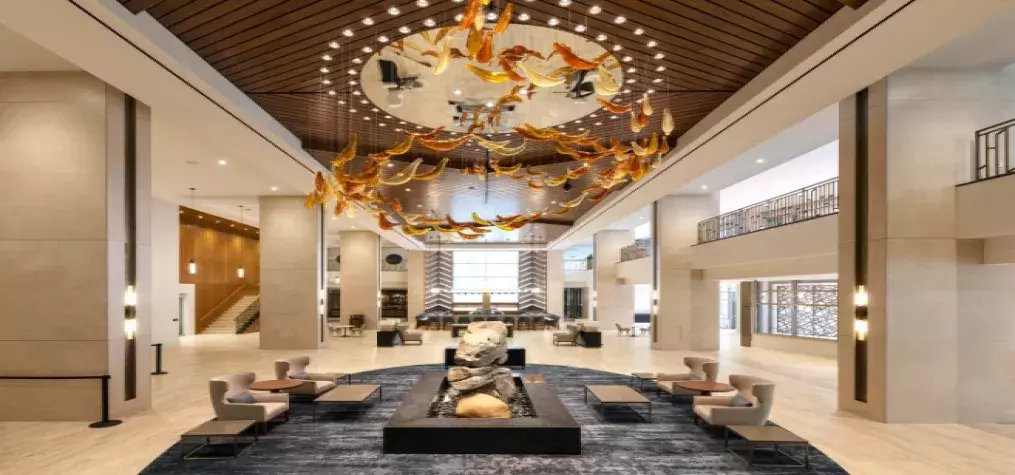 Located in beautiful North Carolina, Harrah's Cherokee is the perfect mountain getaway with breathtaking views of the Great Smoky Mountains and new additions to its resort and conference spaces sure to elevate any meetings or event. Completed in 2021, Harrah's Cherokee's latest $330 million expansion project introduced an entirely new fourth hotel tower, The Cherokee, as well as an additional 83,000 square feet of meeting space with the Cherokee Convention Center. The Cherokee tower brings with it 725 rooms and 70 luxurious suites spread out over 19 floors for a grand total of 1,800 rooms across the entire resort. The new rooms feature a sleek design with an earth-toned color palette and modern amenities. In addition to the new rooms, the expansion also brought with it a luxurious new lobby and lobby bar, a fitness center, a coffee & pastry bar, and a second pool. Conventions, trade shows, banquets, receptions, and even the smallest, most intimate gatherings can find the perfect arrangement at Harrah's Cherokee with its 130,000 square feet of flexible meeting space – including the Cherokee Convention Center. The resort offers a myriad of different spaces and configuration options for events, but the largest spaces include the following: 32,000-sq-ft Cherokee Convention Center ballroom with 22 meeting spaces 11,100-sq-ft Cherokee Convention Center ballroom pre-function space 33,000-sq-ft Cherokee Exhibit Hall 6,000-sq-ft Cherokee Exhibit Hall Pre-Function 13,801-sq-ft Council Fire Ballroom able to be reconfigured into as many as four ballrooms from 3,100 to 3,529-sq-ft each 16,815-sq-ft Event Center able to be configured in six different ways to accommodate 100 to 1,500 guests and offers four VIP suites, box seating, and more than 1,100 balcony seats. In addition to the new accommodations and meeting space, Harrah's Cherokee has also opened several new restaurants as part of the expansion including Guy Fieri's Cherokee Kitchen + Bar which includes the chef's award-winning burgers and barbeque on the menu. Another celebrity chef has also made their mark on the resort with the opening of Gordon Ramsay Food Market which features eight dining concepts ranging from sushi to New York-style deli sandwiches and classic fine-dining fare. Longtime Asheville favorite, Wicked Weed Brewing Pub has also debuted a new location next to Harrah's Cherokee Event Center creating the perfect after-event center with its bright and bold design, over thirty different beers, and live music on weekends. An easy drive from many of the largest cities in the Southeast, Harrah's Cherokee provides the perfect blend of majestic mountainscapes, luxurious new accommodations, and authentic Native American culture.