Straight Talk: Sherrif Karamat, President and CEO, PCMA
April 6, 2022
Sherrif Karamat is a life-long learner with an impressive list of credentials—an MBA and post-graduate certificates in business, management, strategic negotiations, data intelligence and big data, to name a few. But some of his greatest lessons—personally and professionally—have come over the past two years of the pandemic. 
Capitalizing on those lessons is one of his top priorities as he guides the Professional Convention Management Association (PCMA) and its members in successfully moving forward in the evolving events environment. 
Reinvention is key, according to Karamat.
"Our industry has such a critical role to play in society," he said. "We can't go back to what 'was' and not provide new value."
We sat down with Karamat to discover how he navigated and learned from the pandemic and get his thoughts on some of the best ways event professionals and the industry at large can innovate in a new era of events and what he is most looking forward to this year and beyond.
What are the biggest changes your organization has gone through in the past two years of the pandemic?
We've gone through so many changes, but one of the major ones is that we have been resolutely focused on data and data insights, so we can be responsive, not reactionary, to our members' needs and our customers' needs. We are hiring people with that kind of knowledge and data mindset. We are not in the technology business, we are in the business of human connections, and these are tools to enhance your connections. We want the best minds to help us to study that data, so we can develop experiences and products for what the audience wants. We're never going to develop those products unless we are listening and responding, so we've been building an organization that's agile and responsive. Another change is that we have become a decentralized organization and have been progressively globalizing. We are now truly global and will develop the solutions close to where the people are as opposed to it all being developed in our Chicago office.
How do you think events should be different moving forward, and how can event professionals design the most impactful experiences?
There are four ways I think events must be transformed. The first is content. Are you listening to the challenges your industry is facing and delivering thought-provoking content that is relevant today? And not all with people speaking, but by bringing your audiences together for participatory, immersive and engaging conversations. Next is commerce. How you do business and create business opportunities and business networking is going to be critical. People are not going to walk down traditional trade show floors in the very near future. It doesn't mean that the trade show is dead. It's the idea of commerce being alive and maybe greater than ever. Areas of commerce must be transformed into massive experiential brand experiences and brand innovations that allow people to engage in products and services. The third is community building. How can you be more inclusive with your community and allow them to feel like they belong and can contribute and shape the design of an event? The fourth is experience—the experience before, during and after the event. How do you intentionally design experiences that allow people to learn, grow, connect, conduct business, build relationships and feel like they belong? Events must be designed in that way, otherwise, people will go elsewhere or just not show up at all.
On stage at PCMA Convening Leaders (CL) in January 2022, you said COVID-19 may have been our biggest gift. What do you think was the real silver lining?
It's a painful thing to say when so many lives have been lost and people have suffered, and so I want to be mindful of that. But it has been a gift because I really believe that climate change can crush us all. The pandemic made us realize that we had better be careful. It was a cue to be more environmentally conscious and know that we have a responsibility to our future generations, and we can do better. As Scott Galloway said [during his PCMA CL 2022 session], we have the power to develop new fuel and new energy sources. [The cleaner environment as a result of people staying home] made the pandemic a precursor to much greater things. It was a wake-up call for all of us that we had better be careful and take climate change more seriously.  
What have you learned most about yourself during the pandemic?
I've learned that there's so much that we don't know. I've learned that little things matter, and we can do little things to make a lot of people much happier. I've found that people, even amid all the divisiveness and rhetoric of COVID, are a lot more caring. When you are home, reconnecting with family members more, you start realizing what's really important in life. You don't need to go on every trip around the world. You don't need to do everything. I've learned that sometimes we think our challenges are insurmountable, until you hear about someone else's challenges, and that you shouldn't always react to someone's bad behavior because you don't know what's going on in their lives. I've learned to be a lot more patient. Most of all, I've learned that I still have a lot to learn.
What were some of the things you did for self-care and your overall well-being during the pandemic?
I've always been a health and fitness person, and since the gyms were closed a lot, I bought a Peloton. I'm hooked on it. I've also learned to slow down and that everything does not have to be done in the next second.
What are you most excited about for this year and beyond for PCMA?
One is that PCMA is resolute about delivering value to its membership and its audience and that PCMA is working on reimagining itself. So, I'm looking at how we will create new products that people are really interested in and looking at PCMA and its brands, and how that will evolve over the next couple of years, starting with this year. I'm also looking forward to a lot more of the next generation getting involved. They're bringing so much energy and different lenses into the picture. A lot of what happened with the [recent] resignations is that leaders did a bad job of creating next-generation leaders. Leadership is not a popularity contest, and it can be hard when everything rests on your shoulders. We must prepare people and develop them for that. So, I'm excited about what I see, and I think our future is bright.
Lastly, what's the first place you want to go for leisure as the world fully opens to travelers?
I want to go back to Positano on the Amalfi Coast and eat pasta for breakfast and lunch. I just love it there and the beauty of the Mediterranean. I think everybody should go and experience that once in their life.
Don't miss any event-related news: Sign up for our weekly e-newsletter HERE and engage with us on Twitter, Facebook and  LinkedIn!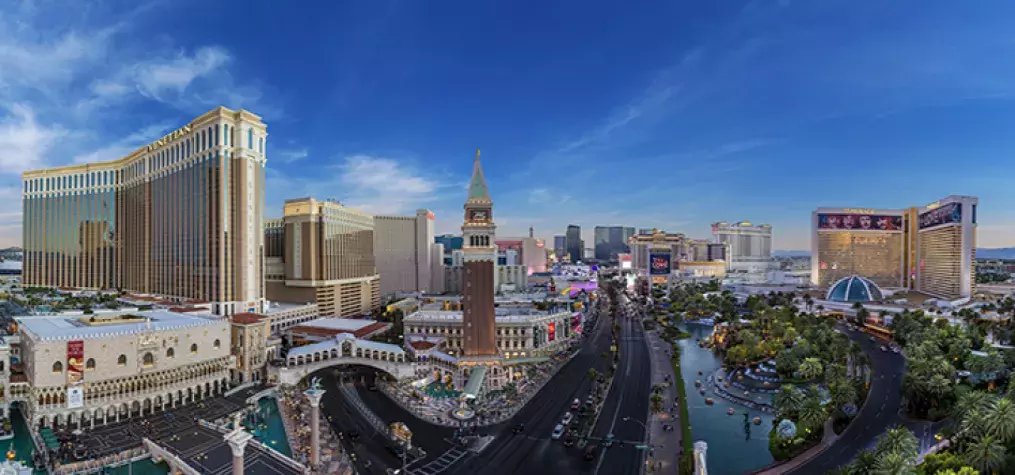 Less than six months ago, Lisa Messina joined the Las Vegas Convention and Visitors Authority (LVCVA) as the first-ever chief sales officer after leading the sales team at Caesars Entertainment. A 12-year Las Vegas resident, Messina is a graduate of Cornell University's School of Hotel Administration and serves on MPI International's board of directors. TSNN had a chance to catch up with this dynamic leader and talk to her about her vision for the new role, current shifts in the trade show industry, creating more diversity and equity within the organization, and advice to future female leaders. Lisa Messina, Chief Sales Officer, LVCVA With Las Vegas becoming The Greatest Arena on EarthTM, what are some of the things you're most excited about in your role? Our team was at The Big Game's handoff ceremony earlier this month, and I couldn't help but think, "We're going to crush it next year!" These high-profile events and venues not only drive excitement, but also provide unmatched opportunities for event planners. Allegiant Stadium hosts events from 10 to 65,000 people and offers on-field experiences. Formula 1 Grand Prix will take place in Las Vegas in November, after the year-one F1 race, the four-story paddock building will be available for buyouts and will also offer daily ride-along experiences that will be available for groups. And, of course, the MSG Sphere officially announced that it will open in September, ahead of schedule, with a U2 residency. It's going to be the most technologically advanced venue as far as lighting, sound, feel, and even scent, and it will be available for buyouts and next-level sponsorships inside and outside. There's no ceiling to what you can do when you're doing events in Las Vegas. Allegiant Stadium As the trade show and convention business returns to the pre-pandemic levels, what shifts are you noticing and how do you think they will impact the industry going forward? Our trade show organizers are very focused on driving customer experience. Most of our organizers are reporting stronger exhibitor numbers and increased numbers of new exhibitors, with trade shows proving to be almost or above 2019 levels. Now our organizers are really doubling down on driving attendance and focusing on the data to provide that individualized, customized experience to help attendees meet their goals and get the best value. Some companies continue to be cautiously optimistic with their organizational spend when it comes to sending attendees, but I think it will continue to improve. As the U.S. Travel Association makes more progress on the U.S. visa situation, we also expect a growing influx of international attendees. What are some innovative ways the LVCVA helps trade show and convention organizers deliver the most value for their events? We focus on customer experience in the same way that trade show organizers are thinking about it. We got rave reviews with the West Hall Expansion of the Las Vegas Convention Center (LVCC), so over the next two years, we will be renovating the North and the Central halls, which will include not just the same look and feel, but also the digital experiences that can be leveraged for branding and sponsorship opportunities. Vegas Loop, the underground transportation system designed by The Boring Company, is also a way we have enhanced the customer experience. Vegas Loop at the LVCC has transported more than 900,000 convention attendees across the campus since its 2021 launch. Last summer, Resorts World and The Boring Company opened the first resort stop at the Resorts World Las Vegas , with plans to expand throughout the resort corridor, including downtown Las Vegas, Allegiant Stadium and Harry Reid International Airport. The LVCVA also purchased the Las Vegas Monorail in 2020, the 3.9-mile-long elevated transportation system that connects eight resorts directly to the convention center campus. This is the only rail system in the world that integrates fares directly into show badges and registration. For trade show organizers, these transportation options mean saving time, money and effort when it comes to moving groups from the hotels to LVCC and around the city. Also, the more we can focus on building the infrastructure around the convention center, the more it supports the customer experience and ultimately supports our trade show organizers. Scheduled to debut in Q4, Fontainebleau Las Vegas will offer 3,700 hotel rooms and 550,000 square feet of meeting and convention space next to LVCC. What are some of the plans for advancing DEI (diversity, equity and inclusion) within your organization? We're currently partnering with instead of working with a leading consulting firm, to lay the foundation and create a solid DEI plan and be the leader when it comes to DEI initiatives. The heart of that journey with the consulting firm is also talking to our customers about their strategic approaches to DEI and driving innovation in this space. What are your favorite ways to recharge? My husband and I have an RV and we're outdoorsy people. So, while we have over 150,000 world-class hotel rooms and renowned restaurants right outside our doorstep, one of my favorite things to do is get out to Red Rock Canyon, the Valley of Fire, and Lake Mead. Five of the top national parks are within a three-hour drive from Las Vegas, so there's a lot you can do. We love balancing the energy of Las Vegas with nature, and we're noticing that a lot of attendees add activities off the Strip when they come here. Valley of Fire What advice would you give to women following leadership paths in destination marketing? I think it's about being laser-focused on what you want to accomplish; building a team around you that lifts you and helps you achieve your goals; and being humble and realizing that you do it as a group. No one gets this done alone. Thankfully, there are a lot of women in leadership in this organization, in our customers' organizations, and in this city that we can be really proud of. We're a formidable force that is making things happen. This interview has been edited and condensed. This article is exclusively sponsored by the Las Vegas Convention & Visitors Authority. For more information, visit HERE.