How to Make Hybrid a Hit: Takeaways From MIX 2022
May 18, 2022
Live streaming, in-person watch parties, virtual viewing around the world, and broadcast-quality production—that's what Mastering Immersive Experiences (MIX) 2022 looked like. A terrific hybrid event indeed. 
So terrific, in fact, we thought it would be unfair if we kept the gems of knowledge learned at our first hybrid event away from you. So we sat down with one of Hubilo's premier event professionals, Jessica Connolly, who spearheaded the planning, management, and execution of MIX, and picked her brain to get the top takeaways from the event. Here's what she had to say. 
Create pre-event buzz to tease the audience for the event 
"Building excitement with your online community before the event is a time investment well-spent. We ran a social media contest before the conference that drove a lot of awareness about MIX. It allowed attendees to get excited before MIX started. And to find out if they'd won, they had to tune in to the event. So our pre-event social contest ended up being a great way to convince those who signed up to attend and discover what else was in store."
Separate engagement experiences for virtual and in-person attendees 
"There truly are two separate audiences that you're trying to engage during a hybrid event. You have to create different experiences for both of them because they're in different settings. 
And while we kinda knew this going into the event, we really learned the ways that this manifested. For example, with contests that we set up online, our virtual audience loved them and leaned heavily on the chat feature; however, our in-person attendees really embraced face-to-face networking. Everything isn't going to translate, and that's ok. 
Get your event a "Rachel" 
"If you go back and watch something on demand, maybe you're just watching that particular session. But for a live experience, when we wanted people to be engaged, Rachel Moore really tied it all together. She connected with the audiences both virtual and in-person. Sometimes she'd talk while a session was happening, or when the virtual audience went to break she'd be giving directives to the in-person audience. She was just so personable and that was huge. 
On top of that, Rachel had a co-moderator, Sabrina Meyers, who made the experience even better because there was that banter that broke up the session content and ensured that both physical locations got on-screen time."  
Wondering if there's more where these came from? There is! Check out the on-demand recording of MIX 2022 here.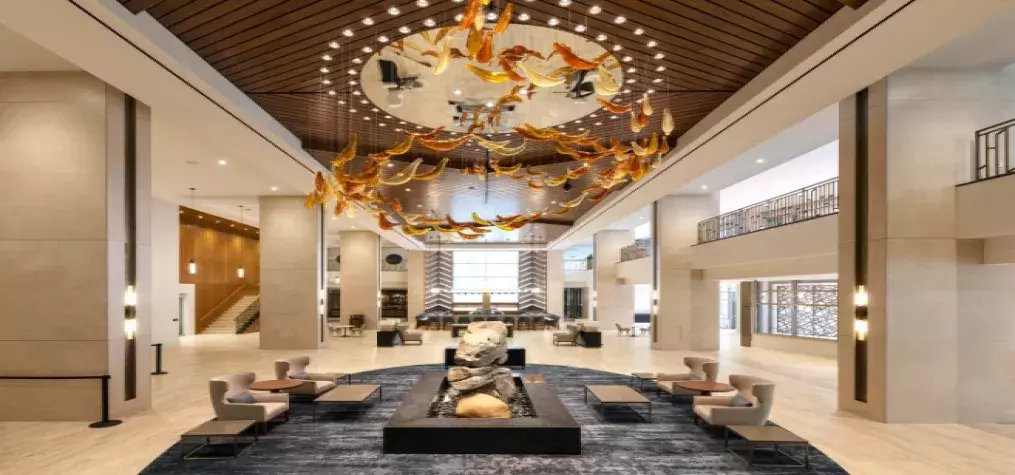 Located in beautiful North Carolina, Harrah's Cherokee is the perfect mountain getaway with breathtaking views of the Great Smoky Mountains and new additions to its resort and conference spaces sure to elevate any meetings or event. Completed in 2021, Harrah's Cherokee's latest $330 million expansion project introduced an entirely new fourth hotel tower, The Cherokee, as well as an additional 83,000 square feet of meeting space with the Cherokee Convention Center. The Cherokee tower brings with it 725 rooms and 70 luxurious suites spread out over 19 floors for a grand total of 1,800 rooms across the entire resort. The new rooms feature a sleek design with an earth-toned color palette and modern amenities. In addition to the new rooms, the expansion also brought with it a luxurious new lobby and lobby bar, a fitness center, a coffee & pastry bar, and a second pool. Conventions, trade shows, banquets, receptions, and even the smallest, most intimate gatherings can find the perfect arrangement at Harrah's Cherokee with its 130,000 square feet of flexible meeting space – including the Cherokee Convention Center. The resort offers a myriad of different spaces and configuration options for events, but the largest spaces include the following: 32,000-sq-ft Cherokee Convention Center ballroom with 22 meeting spaces 11,100-sq-ft Cherokee Convention Center ballroom pre-function space 33,000-sq-ft Cherokee Exhibit Hall 6,000-sq-ft Cherokee Exhibit Hall Pre-Function 13,801-sq-ft Council Fire Ballroom able to be reconfigured into as many as four ballrooms from 3,100 to 3,529-sq-ft each 16,815-sq-ft Event Center able to be configured in six different ways to accommodate 100 to 1,500 guests and offers four VIP suites, box seating, and more than 1,100 balcony seats. In addition to the new accommodations and meeting space, Harrah's Cherokee has also opened several new restaurants as part of the expansion including Guy Fieri's Cherokee Kitchen + Bar which includes the chef's award-winning burgers and barbeque on the menu. Another celebrity chef has also made their mark on the resort with the opening of Gordon Ramsay Food Market which features eight dining concepts ranging from sushi to New York-style deli sandwiches and classic fine-dining fare. Longtime Asheville favorite, Wicked Weed Brewing Pub has also debuted a new location next to Harrah's Cherokee Event Center creating the perfect after-event center with its bright and bold design, over thirty different beers, and live music on weekends. An easy drive from many of the largest cities in the Southeast, Harrah's Cherokee provides the perfect blend of majestic mountainscapes, luxurious new accommodations, and authentic Native American culture.